Modifications and Bodykit Styling for the pre-facelift Audi A8 D3
Euro 2003 & USA 2004 and 2005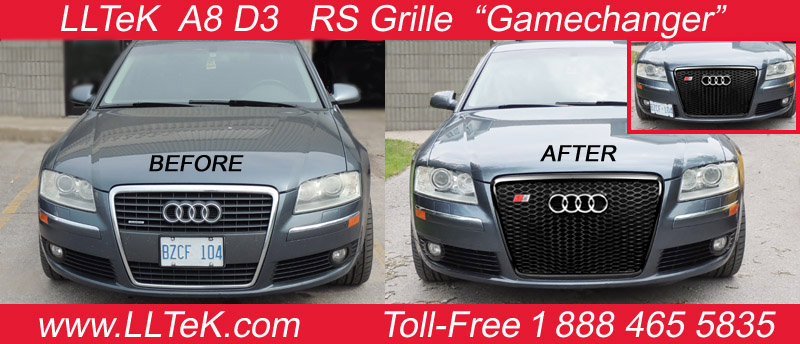 From: Michael S. [mailto:***********@gmail.com]
Sent: Sunday, May 29, 2016 2:42 PM
To: Mark
Subject: Re: FW:

Hi Mark, the new grill for my A8 is now painted and installed. I did not cut out the center areas of the fog light grills as the blades on both sides of the grills need to be retained. I instead painted the fog light grills gloss black and relocated the license plate to the right side. Everyone loves the looks of the new grill. It's taken a classy looking car and transformed it into a luxury sports car.
Thanks, it was a great purchase, l received it one day after l ordered it, and the fitment was good. I did pre-drill the new mounting holes as the first self tapping screws snapped off.
I've include a couple of the pre and post pic's.

Thanks again!!!

Michael S.





Click an Image Above and View Details on 4 Distinct Styling Options




The bumper / grille changeover is a compelling update for the original pre-facelift D3 that came out of the factory equipped with a grille about a third the size of Audi's new standard "single-frame" version. It was the A8 that lead the way and was first of all production models to roll out with the new look that has overtaken the entire Audi lineup since its introduction in 2006.

Despite the popularity of this big grille body kit, some owners of the classic A8 prefer styling modifications closer to original look. For these Audi A8 owners, LLTeK offers the body kit that was the first to cross the Atlantic from Germany to North America. The Audi A8 D3 body kit from JE DESIGN is an excellent option.





LLTeK continues to provide body kit styling options for owners of the pre-facelift Audi A8 D3. In December of 2012, LLTeK released the Quantum RS Mesh grille for the Audi A8 D3. It is the fourth and best grille upgrade offered in conjunction with the Hofele Premiere / RS8p body kit bumper conversions.