Body Kit Styling for the Audi Q7 4L by Caractere
covers original Q7 (2006, '07, '08 '09) and facelift Q7 (2010 on)

Euro Design and manufacturer Caractere has body kit styling for your Audi Q7. The Audi Q7 land yacht underwent some cosmetic upgrades for the 2010 year model - including contrasting lower trim, grille, headlightin and rear hatch. The "facelift" version will be easy to distinguish from the original Audi Q7 - even at a distance.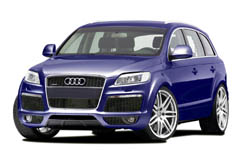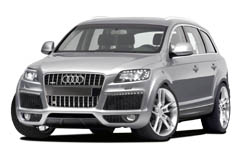 Click on blue Audi Q7 (2006-2009) OR facelift Audi Q7 (2010>)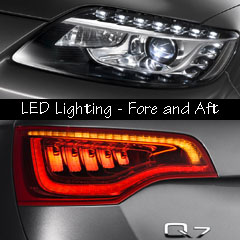 From a distance, the distinctive Audi "single-frame" grille will let you know you're looking at a Q7 (well... maybe a Q5) - but the easiest way to tell if an oncoming machine is an Audi Q7 facelift model is whether or not the headlights are enhanced with an eyeliner of LED's.

In the facelifted Audi Q7, rear lights are fully LED and a change in the rear hatch has been made to allow for worldwide fitment of all-sizes of license plates. The grille and front bumper have subtle changes but recognition between the original and facelifted Audi Q7 will center on the 2010 grille's vertical chrome bars and contrasting glossy black finish.

Finally, the facelift 2010 Audi Q7 has lower trim painted in a contrasting black or gray, depending on the body color. If you have any questions regarding the Caractere body kit styling for your Audi Q7 - Call now and speak with a friendly and knowledgeable LLTeK Representative: Toll-Free in North America at 1 888 465 5835 OR
International - 001 514 733 6333
Caractere CW-1 Series Wheels for the Audi Q7 - 20" and 22"


Click and and Return to Audi Q7 index



Click and Return to LLTeK index