R-Line Golf Mk7 - Latest Release April 15, 2016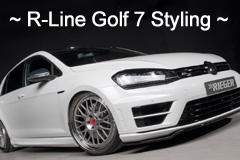 LLTeK presents styling and performance options for the Volkswagen Golf Mk7. These "tuning" products are, by and large, produced in Europe to the preferred and known standards that German car enthusiasts demand. 2016 marks 20 years of business for LLTek and it's still a pleasure to help our clients into the cars that turn heads and let everyone know that driving is more than getting from one place to another.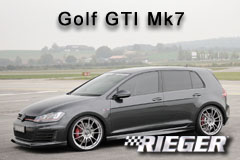 These links lead to GTI, GTD, and straight up Mk7 pages. Click on any of the pictures and view body kit and performance tuning parts from Caractere or Rieger. These styling groups produce world class aftermarket accessories as complete packages or individual items. Choose from bumpers, spoilers, splitters, skirts, wheels, and exhaust options; cherry pick or jump into the deep end - it's your car and you should suit yourself on the way you see your project.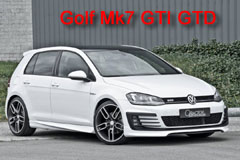 The differences in materials used to manufacture these body kits for VW enthusiasts are distinguished by price not quality - these euro designers are recognised worldwide for their superb quality control and ease of installation. Rieger specialises in ABS - and Caractere (of Belgium) works almost exclusively with PU-RIM (an acronym for polyurethane - reaction injection molding.)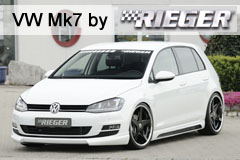 LLTeK has been importing Rieger, Caractere, JE DESIGN and Hofele parts for years to provide our customers with choice. We can recommend any of these kits; we know these companies, their owners, and their staff. We communicate with them on a weekly basis. Small print - free advice * Whatever your choice is from amongst these offerings, LLTeK recommends an install shop with Volkswagen experience.

LLTeK will help with your questions. Business hour are Monday through Friday - 8:30AM to 5:00PM ET (GMT -5). In case it's afterhours, visit the LLTeK contact page and drop us a line via e-mail with your questions. It's 1 step closer to getting your project off the ground.