Trunk Liners
Preserve the Resale Value of Your Audi
Do you enjoy an active lifestyle? Now you can pursue your renovations.... or snowboard to your heart's content with the knowledge that whatever you stow for transport in your Audi will be done worry free. Nothing will protect your interior better than this quality protection system available from LLTEK. Preserve your trunk area carpet with our new OEM (factory) quality liners.These liners are molded to your vehicle's cargo area for a perfect fit.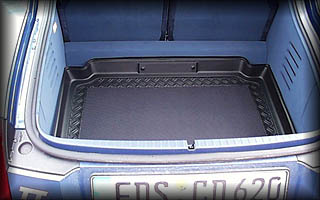 Custom fit for each vehicle model (see listing of product availabilty below) - these trunk liners have been designed and manufactured in Europe for Audi automobiles. These liners will protect your Audi's cargo area from oil, dirt, mud, snow, sand, water - whatever. Lightweight and durable - they can be removed in a minute and hosed down for quick and easy cleaning. The 2.75-inch lip helps contain spills, and the center area of each liner is texturized to create a skid resistant surface - in addition , each trunk liner possesses a stippled backing meaning the liner will not slide around on your trunk carpet which in turn translates into cargo less prone to shifting. LLTEK's trunk liners are made from extremely durable thermoplastic rubber and coated with a protective non-stick finish for easy clean up.