Cell Phone Base Platform for the A6 and S6
Direct from Germany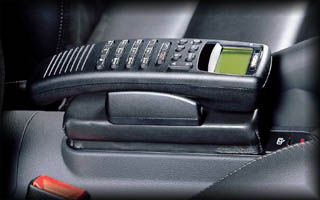 LLTEK has a licenced agreement to be the exclusive importer for a new and exciting range of cellular telephone holders. The telephone holders are from Europe and will complement fine car interiors with their genuine leather finish. Each Phone Base model is custom designed and fitted in a unique manner to the center console of Audi cars. Cell phones can be firmly attached to the base via magnetic pad or with the phone's own cradle (supplied by the cell phone manufacturer).
LLTeK Leather Cell Phone Bases for the Audi A6/S6
Part #
Description
Price
Image
VES4B-16 / KUD4B-16
A6 C4(4B) 1998>
S6 C5 (4B) 2002-2004
$99



Click and View Audi A6 Pre-Facelift 1998-2001 Page...



Click and View Audi A6 Facelift 2002-2004 Page...



Click and View Audi S6 2002-2004 Page...

Click and Return to HOME Page index...