June 3, 2003 - New Look and Lease on Life for Classic Audi S4 / S6 C4 Series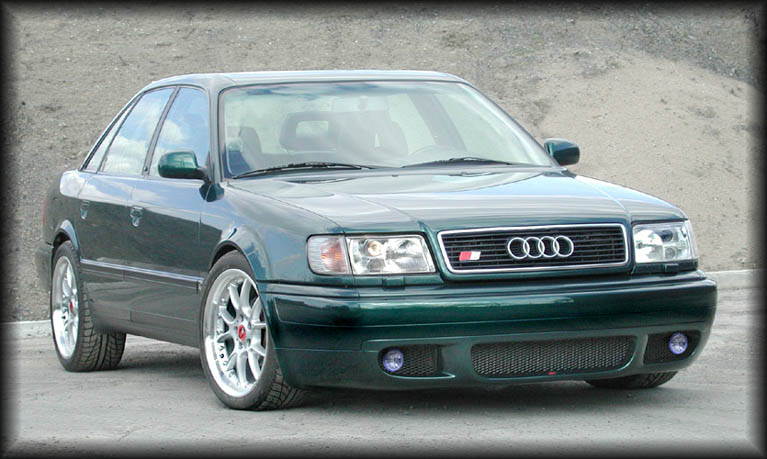 LLTeK announced the planned release today of a lower lip spoiler insert plus other options for the classic Audi S4 / S6. Euro versions of these Audis will accomodate the design with minor modifications. Market study prior to development revealed broad support and interest from C4 owners who have, up until now, had few options available for this model series in the U.S. and Canada.

Response has been overwhelmingly positive. The lip spoiler will be offered with a total of 9 optional upgrades and provides a convenient means for owners to keep the look and edge this car deserves. Install times should not exceed 60 minutes plus the time it takes for bonding adhesives to cure.

Three powerful lighting options, grill upgrades and an optional splitter will complement this exclusive item. This all-new spoiler will be part of the LLTeK MatchPaint Program and if you choose this paint option then the lighting options will be installed at no cost making the transformation as easy as 1-2-3.
| | |
| --- | --- |
| | |
| fig. 1 | fig. 2 |
| | |
| fig. 3 | fig. 4 |
| | |
| fig. 5 | fig. 6 |
| | |
| | |
| fig. 7 | fig. 8 |
| | |
| | |
| fig. 9 | fig. 10 |
| | |
| | |
| fig. 11 | fig. 12 |
See LLTEK's S4 or S6 Section for More Images
Click and and View List of ALL Press Releases



Click and Return to LLTeK Home Page