June 24, 2003 - New Release for Audi A6 Urban Hitters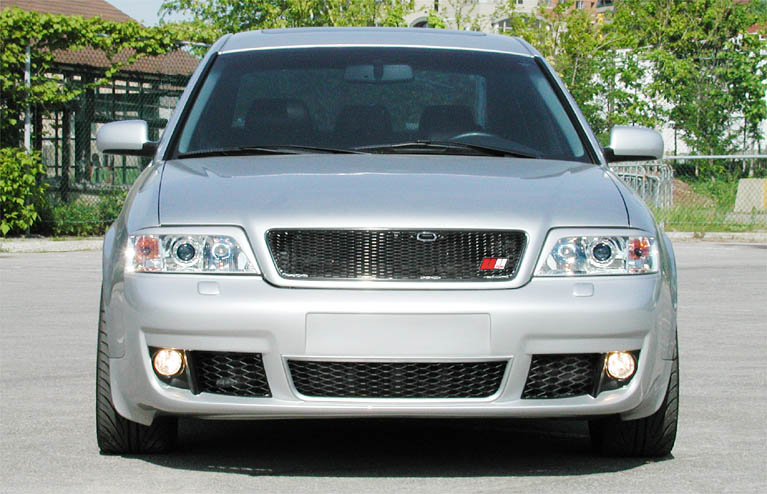 LLTeK announced today that the New R6 Styling Program for Audi's USA and Canada A6 4B (1998>2001) is set for release. The design is specifically targeted for Audi's "pre-facelift" A6 model enthusiasts. A version of the front will be available for the facelift version (2002>) at a later date. The styling program is for the narrow body A6. This Aero design will fit the A6 with the 2.8 and 2.7T motors for the USA model only. For other countries there is a model for other motors which LLTeK will supply. To determine if your car is before facelift versus facelift, look at the upper center grill. The facelift version has square lower corners.

To install the front bumper it will be necessary to purchase a modified OEM set of Audi's European impact bar supports from LLTeK - the support bars will be used to replace the current set. The North American impact bar is also subject to a small modification but is re-used with a small modification at each end. Installation is straightforward and similar to the installation of the narrow body RS4 front bumper. The material is fiberglass. The OEM foglights in the original setup will not fit the R6 corner mounts and openings. For this reason, LLTeK will be able to offer 3 lighting upgrade options, one of which will be real HID Xenon utilizing Phillips D2 ballast systems. The other options consist of a choice between 5th Generation blue-tint glass fog or driving lights. When the bumper is ordered with LLTeK's MatchPaint option, LLTeK pre-installs the lights for free.

The R6 front bumper is available as part of LLTeK's MatchPaint program also. When paint is an option, LLTeK will pre-install all 3 lower grills. With the paint option a second color (black) is provided for the accents that surround the fog and air intake cover.

At a later date, LLTeK expects to offer a set of side sills and a design for the rear of the car. LLTEK worked with the manufacturer very closely to develop a special fitting program for USA specification cars. The manufacturer makes a special modification in Germany for LLTEK plus LLTeK makes a final modification to the impact bar supports to complete the supplied changes. Without these changes the bumper cannot be installed. The front look of the bumper is the short profile.

LLTeK will also offer 2 additional options. For a small charge, LLTeK will delete the European license indentation (only with paint option). Also a lower under splitter is available also with a paint option. The product is oversized and ships by truck only in a special extra strong protective box. For more information contact LLTeK by phone Toll Free at 1 888 465 5835.
Click on an Image and View the Enlarged Version
Click and and View List of ALL Press Releases



Click and Return to LLTeK Home Page