July 8, 2003 - Unique Kevlar Bodykit Styling for the Porsche Boxster®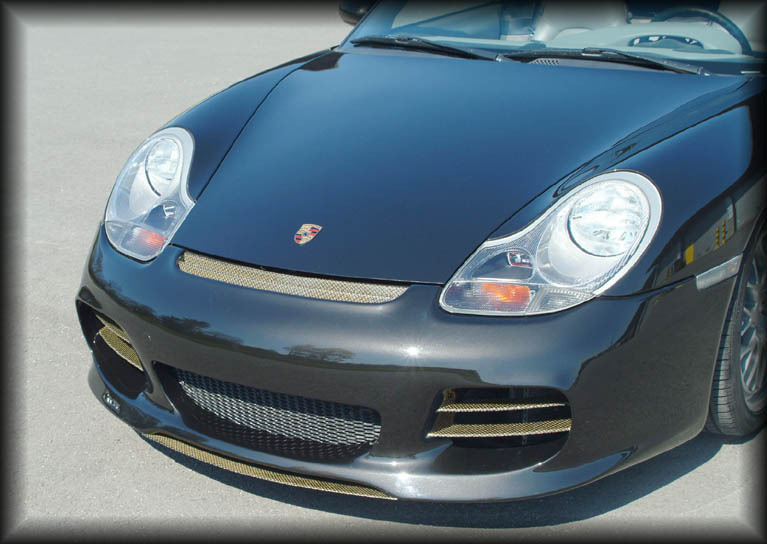 LLTeK announced the completion and availability of a Special Order Kevlar Accent Kit for the Porsche 986 Boxster Program. The Special Edition version of Caractere's popular aero upgrade will be of interest to Boxster owners (years 1997 thru 2002). The totally distinctive Kevlar weave accents - present as dynamic air louvres, splitter and top louvres in the front bumper and as a large exhaust cap in the rear valance - produce a visual impact that will spark interest always. It is absolutely unique in North America.

This high-styling upgrade kit of four (4) pieces from LLTeK will be offered as a "special factory order" only. Individuals interested in this 4-piece kit will be pleased to know that the kit is part of LLTeK's MatchPaint program and that despite the possibility of some delay in acquisition, when ordered with the "prepainted" option, the kit will arrive fully documented and ready to install. Although the Kevlar version is exclusively obtained through "special order", the difference in price is nominal. The kit is available for the Porsche Boxster and Boxster S. For more information contact LLTeK on the Toll-Free at 1 888 465 5835.

High-Styling with Carbon Fiber for the Porsche Boxster®

Click and and View List of ALL Press Releases



Click and Return to LLTeK Home Page