March 28, 2006 - RX Prescription for Audi A6 (C5) Exhaust Presentation!
Years: 1998>2001 - 2.8, 2.7T and 4.2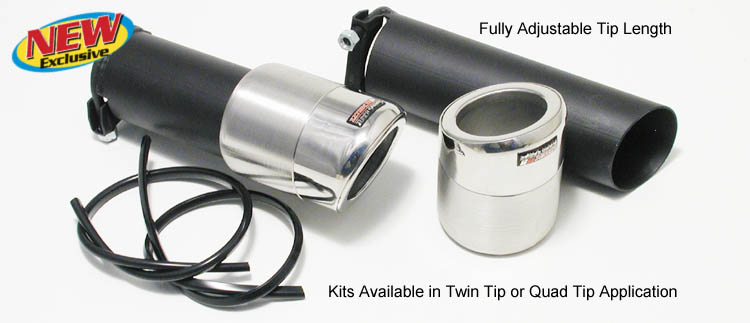 Exhaust tip conversion kits for the Audi A6 (C5) 2.8, 2.7T and 4.2 are available from LLTek exclusively.
Does your pre-facelift (1998-2001) A6 (2.8, 2.7T, 4.2) suffer from tailpipe neglect? Well, suffer no more as LLTek has the perfect fix for early A6 (C5) cars that have tailpipes directed to the road instead of through the rear bumper like their upgraded facelift cousins. Now you can have the same look. It's easy, it's fast, it's not expensive and the results are cool.

Here is how it works and here is what you get.
Kits for 2.8 and 2.7T are identical. 4.2 kits use different components but the end look is the same. These twin kits are pure bolt-on, once the old downward facing tailpipe has been trimmed down. If, however you elect a quad version of the tailpipe upgrade, LLTek recommends the primary support pipe be welded to the muffler stub due to the extra weight of the inboard extra tips.


Before and After Photographs - Dual Tip Modification shown on A6 4.2
A6 2.8 2.7T Dual conversion kit $66
A6 4.2 Dual conversion kit $66
Tips for 2.8, 2.7T (Dual) (2 x $66=$132) $66 each
Tips for 4.2 conversion kit (Dual) (2 x $77=$154) $77 each
A6 2.8, 2.7T Quad conversion kit $132
A6 4.2 Quad conversion kit $154
Tips for 2.8, 2.7T Quad (4 x $66=$264) $66 each
Tips for 4.2 Quad (4 x $77=$308) $77 each
Solid 3D Bezels with peak for 2.8, 2.7T (1998 - 1999) $88 per kit
All Kits include rubber bezel finishing trim.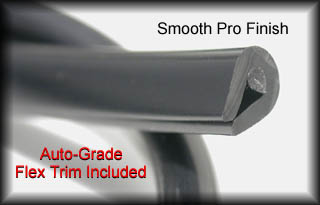 Easy How-To Installation:

1. Cut off the existing pipe tips on your car where the pipe starts to turn downtowards the road, leaving as much straight pipe as possible to become the kit mounting stub. Your exit stub when cut should be about ¾ of an inch. You need this straight length to mount and attach the new bolt-on extension and tips.

2. Attach the LLTek supplied extension pipe and visually line it up with the new bumper exit point as if this were the actual tailpipe. Using a drill, bore a small ½ inch hole in the rear bumper in the center of the pipe or as close to the center as you can estimate. This hole is your visual alignment hole.

3. Looking through the hole, recheck and realign the exit pipe if necessary.

4. Make the alignment hole larger and larger, but always reference the extension pipe to ensure it's positioned correctly. You will need a dremel or similar device to enlarge the opening.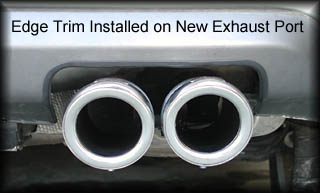 5. Once the opening is large enough, install the special new tips on the extension pipe on a trial basis and adjust the protrusion length of the tip to your taste. Ensure there is bumper clearance of about ¾ to 1 inch around the tip in relation to the bumper edge. Remove the tip.






6. Install the supplied smooth edge trim material to give the rough edges a smooth, professional look. Reinstall the tip and adjust.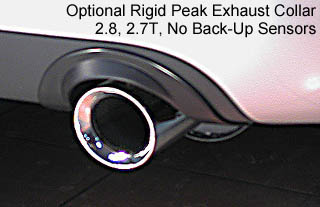 7. Tell your amazed friends that LLTek has produced another miracle. Note: For A6 2.8 and 2.7T model years 1998 - , you can also order the "rigid peak exhaust collars" that give the car the S6 4.2 look. They are available painted dark charcoal grey or light silver. Installation is glue with 2 small set screws under the bumper.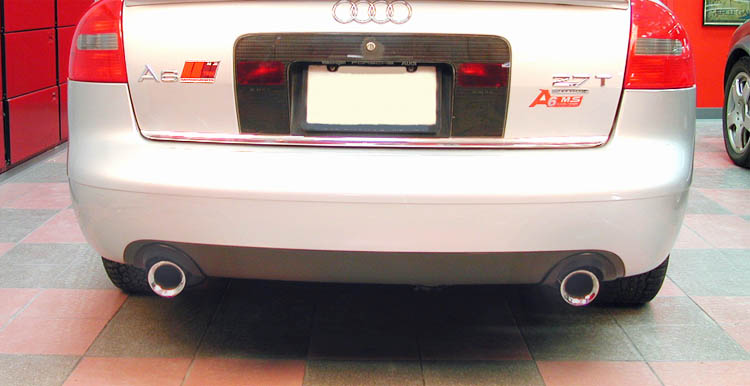 Shown: A6 2.7T with optional Exhaust collar surrounds - also for 2.8. No fitment of collars for 4.2
Click on any image to view an enlarged version.
For further information contact LLTek Toll-Free at 1 888 465 5835 or 1 888 GO LLTEK

Click and and View List of ALL New Product Releases



Click and Return to LLTEK Home Page