April 16, 2003 - Unique Mirror System for Porsche® Under Study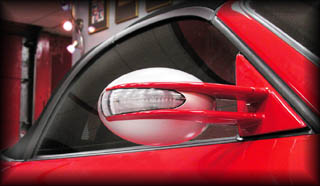 LLTeK Motorsports announces a marketing feasibility study on a new mirror system for the Porsche 996 and Boxster® series of cars. The unique design incorporates high visibility turn signals in the mirror shell. The mirror is designed to be a "plug and play" upgrade except for the 2-wire splice which enables the unique lighting feature.

Two versions of the mirror system are envisioned. One version will fall under LLTeK's "MatchPaint Program" with single color shell, arms and anchor; while the second version (still employing LLTeK's MatchPaint system) will provide the option of OEM color for arms and anchor plus a brushed aluminum look for the shell.

The mirror lens will be in aspherical view with European specifications. The special wide field-of-view lens will allow for extra coverage to the side and rear. Final specifications, availability and pricing have not been determined but additional information can be had at 1-888-465-5835 or 1 888 GO LLTEK.
Click and View LLTeK's Porsche Boxster / 996 Site



Click and and View List of ALL Press Releases



Click and Return to LLTeK Home Page