May 22, 2003 - New RSR Body Kit from UBERHÄUS for Audi A4 B5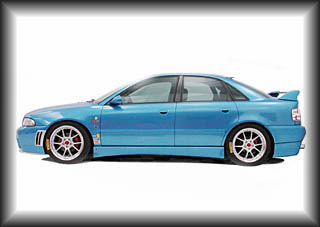 LLTek announced today the coming release of an all-new Aero Body Kit for Audi's A4 B5 (model years 1996>2001). The project calls for manufacture in Purim - the same quality material used on Audi's original front and rear bumpers allowing for greater tolerances in flexibility. Side skirts will feature big box-ends that will meld better with the original Audi design. The RSR Aero package, under development in Europe since September 2002, will include a multi-optioned full front bumper (featuring the long-awaited depression-free license plate area), rear bumper valance and skirts. Now, for the first time, the Audi Enthusiast is offered customised modifications based on their preferences. Another first will be the "no-licence-plate-indentation" feature of the front bumper (see images below). Innovative and flexible styling features of the front bumper/rear valance are expected to generate interest from both industry and the Audi Enthusiast's community alike.

The front bumper's lower section features an optional twin air diverter system utilising a real carbon fiber diffuser or alternatively a MatchPaint diffuser in composite. The rear lower valance also features optional styling overlays in real Carbon Fiber plus an optional Carbon Fiber diffuser.

In keeping with core values at LLTeK and UBERHÄUS, design specs stipulated that the co-operative Bodykit project would incorporate the looks and functionality Audi enthusiasts demand. Owners of the new kit will be able to change the appearance of their car easily with lighting options including integrated HID driving lights or new high performance Halogen Gas systems. Availability is scheduled for release in the fall of 2003. The new kit will be part of LLTek's MatchPaint Program. Prices for landed kits will be announced shortly and are expected to be competitive. Interested individuals can reach LLTeK toll-free at 1 888 465 5835.
Click and and View List of ALL Press Releases



Click and Return to LLTeK Home Page