August 12, 2003 - New Turn Signal Bulb - S-YO "Fats" to be Released this Fall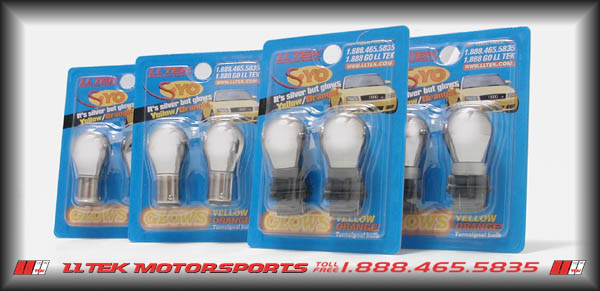 LLTeK announces a new Tail Light Bulb today that pleases both Audi enthusiasts and Road Safety Regulators. For some time, LLTeK has led the push for a bulb that looks clear (NO ORANGE unless Signalling) yet flashes bright yellow/orange and complies with all safety and driving laws when used. The S-YO "fats", 21-watt bulbs from LLTeK designed specifically for Tail Lights, satisfy the law and provide the aesthetic lift that so many Audi drivers in North America have been asking for. Now North American Audi owners can enjoy the clean, clear look that drivers in Europe have enjoyed without getting ticketed for non-compliance. LLTeK has a separate line of S-YO Front Turn Signal Bulbs that are currently available.

1157/1457 Dual Filament - Bayonet Style Socket
3157/3457 Dual Filament - Wedge Style Socket
1156/1456 Single Filament - Bayonet Style Socket
3156/3456 Single Filament - Wedge Style Socket

The Dual Filament combinations for North American Audis are very difficult to find and make the task of a consistent look (i.e. clear front and back) even more difficult now that wedge sockets are specific to most recent Audi Front Turn Signals..
Call toll-free now and speak with a friendly and knowledgeable LLTEK Representative - 1-888-465-5835

Click and and View List of ALL Press Releases



Click and Return to LLTeK Home Page