September 15, 2003 - New Exhaust Styling for Audi A4 8E USA OEM Bumper

Today LLTeK announced the introduction of UBERHÄUS Exhaust Collars for Audi's A4 8E North American Sedan as in-stock inventory items. These exhaust port accessories (sold in pairs) are clean and simple bolt-on upgrades that will compliment LLTeK's Sniper 8 exhaust system or enhance your OEM system, particularly when coupled with LLTeK's 90mm slip-over tips. A second exhaust collar version for The Sniper 8 Quad Tip system is under development and will be introduced shortly. Identical in style, the collar will fit the Quad system with two tips per side.

The overall effect is a look that conveys strength with style. The high-style UBERHÄUS collars are manufactured with a new injection-molded polyester resin composite and all mounting hardware for each set is included (12 Stainless Steel HEX bolts, 12 Stainless Steel self-locking nuts and 4 anchor screws). Installation of the collars should not require more than 15 minutes and Audi owners will be able to choose between LLTeK's optional MatchPaint service or the default color RS Silver. Models for the Avant are under consideration and models for the North American S4 are planned.

LLTeK is launching UBERHÄUS Exhaust Collars North American Sedan only) at an introductory price of $144* for a period of one month only. For further information, LLTeK can be reached toll-free at 1 888 465 5835. Part# KAZ8E-02.

UBERHÄUS Exhaust Collars for A4 8E Sedan
shown with RS Silver Paint Finish

UBERHÄUS Exhaust Collars for A4 8E Sedan
shown with Denim Blue MatchPaint Finish

Close Up of New A4 8E USA OEM Bumper
RS Silver Exhaust Collar from UBERHÄUS

Close Up of New A4 8E USA OEM Bumper
MatchPaint Exhaust Collar from UBERHÄUS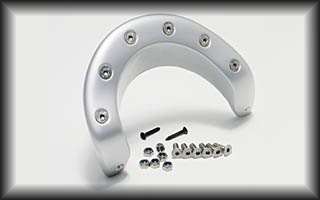 Hardware for each set includes: 12 Stainlees Steel HEX bolts,
12 Stainlees Steel self-locking nuts and 4 anchor screws
*Introductory Pricing of $144 plus Paint expires October 14th 2003

Click and View LLTeK's Audi A4 B6 Page


Click and and View List of ALL Press Releases


Click and Return to LLTeK Home Page