October 3, 2003 - New Armrest for Audi TT is Touring Joy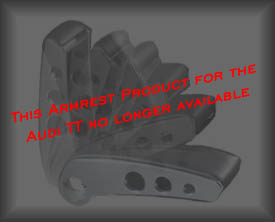 LLTeK is pleased to announce the acquisition and distribution of a new line of armrest for the Audi TT, which will complement the cockpit and provide excellent driving comfort. The armrest has a design that is aircraft-inspired in the form of drilled sides and a padded leather top. The armrest hinge is faithful to Audi's TT interior and easily folds up for access to control panels and storage beside the handbrake. The tucked leather top is dyed in anthracite black while the brushed metal and chrome finish sets off this accessory in a way that leads one to believe the armrest came from the factory as original equipment. The quality and fit of the new armrest is superb!

Installation is a straightforward process with all hardware included. Landed product will not be available for another 60 - 90 days but LLTeK will provide a premium discount for early purchase. For further information call LLTeK toll-free at 1 888 465 5835 or click on image below and take advantage of LLTeK's limited time offer - early subscriber discount.

Click and View an Enlarged Image
Click and and View List of ALL Press Releases



Click and Return to LLTEK Home Page