November 20, 2003 - Multi-Purpose Travel Rack for the Audi TT Makes Debut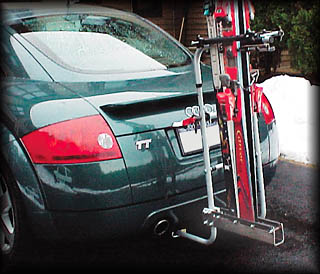 Today LLTeK announced the release of North America's first multi-purpose ultility carrier rack for the Audi TT. Designed and manufactured in the U.S. - the rack is expected to squarely address what can be an annoying issue common to sports car ownership. Planning a day trip or weekend away from home can quickly decline into a struggle of deciding what will be left behind. LLTeK's latest addition - The Multi-Purpose Travel Rack is meant to relieve these concerns and provide options previously unavailable. Shown at right, the frame-mounted gooseneck system is a highly flexible platform which will adapt to your travel needs.


The system, conceived by an industrial design engineer (and also an owner of an Audi TT Coupe), features the capability of transforming easily from ski and board rack to luggage carrier and again to bicycle rack. This practical and durable system is a one person easy-on / easy-off operation with an anti-theft component. Anti-slip surfaces, anti-scratch covered stays and access to the trunk (even when installed) make this unit a valuable addition.
Click an image to see an enlarged version.
For further information on pricing and availability call LLTeK toll-free at 1 888 465 5835.
Click and and View List of ALL Press Releases



Click and Return to LLTEK Home Page