February 23, 2004 - New RSR.5 A4 B5 Grill - Styling First from UBERHÄUS & LLTeK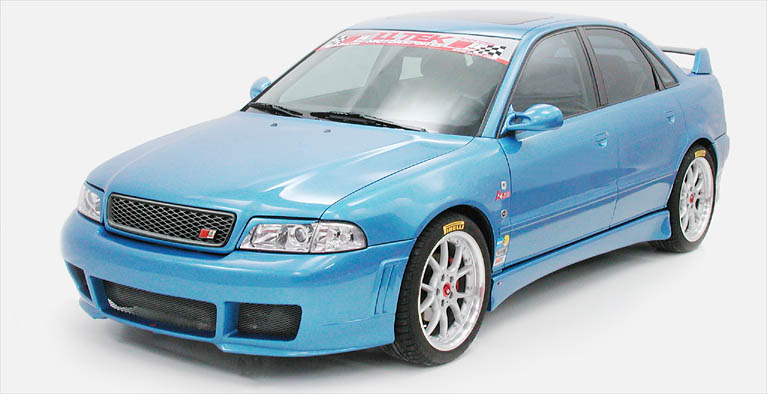 LLTeK is pleased to announce the release of the all-new RSR.5 styling grill. This is how you can make one small neat change in the presentation of your A4 B5 and make a big difference. Look carefully at the picture above - and you will notice the curious (and pleasing) absence of the hood release hole in LLTeK's new RSR.5 Grill. Yes, you can still get to the engine bay with a supplied new hood latch release.
New Design Features "No Hole" Special Hood Release
Quality Manufacture in Purim
Choice of re-mounting your OEM Audi Rings / Badgeless Option
Easy Install - Hardware and Instructions Included
An LLTeK Badge is Included with Every RSR.5 Grill
Click an image to see an enlarged version.
| | | |
| --- | --- | --- |
| | No Hole!!! Special Hood Release Version!!! | |
Note: As part of LLTEK's new RSR Bumper Program (available end of March 2004) this grill will be available at a discount of 50%. Call now toll-free and speak with a friendly and knowledgeable LLTeK representative - 1-888 465-5835
Part# ICB5-05 $188
Click and View the RSR Styling Page



Click and and View List of ALL Press Releases



Click and Return to LLTeK Home Page