April 14, 2004 - JE Design and LLTeK Complete First Audi A8 D3 Bodykit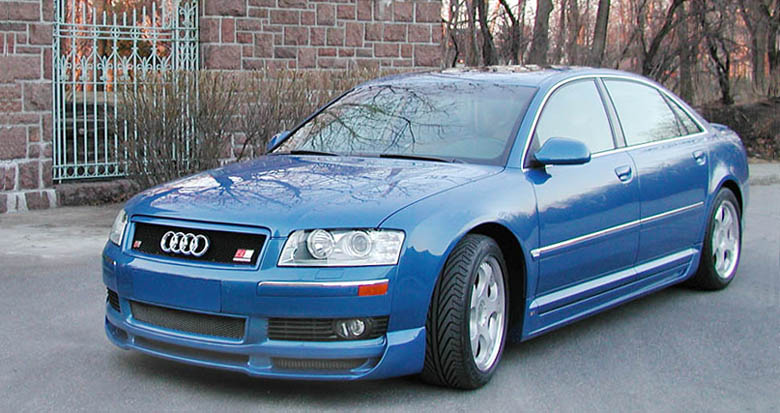 Today LLTeK released first photos of the recently completed upgrades to an Audi A8L executive cruiser using a full Bodykit from the German firm JE Design. The car is absolutely unique and for now, is the only one like it on the continent. A technical and aesthetic marvel to begin with - this "limousin" A8 in special cost Sprint Blue color took to the kit and 18" JE Visage wheels like a duck to water. The auto-leveling/height controls brought the car just close enough to the ground to make the change from urban sophistication to street alpha dominant. The new quad sports mufflers from JE Design backed up the appearance and let anyone close enough know the car could perform without hesitation. Sweet and gentle.

The complete kit from JE Design consists of quad sports mufflers, wheels, trunk spoiler, skirts, front valance and rear sports valance. Particularly pleasing were the results of custom grill work (upper and lower center) and uniform glossy black epoxy-painted mesh. All the aero components were MatchPaint by LLTeK and the only real hurdle encountered and easily overcome was allowance for the rear bumper proximity sensors. Altogether this machine is deluxe.
LLTEK will answer questions regarding JE Design and the Audi A8 toll-free at 1 888 465 5835.
Click and View an Enlarged Image
Click and and View List of ALL Press Releases



Click and Return to LLTEK Home Page