July 12, 2004 - "Night and Day" Tail Light Developments for the Audi TT

LLTeK announced today the future availability of 2 new e-code tail light housing styles for the Audi TT. The two stylings are not unfamiliar to Audi enthusiasts but these lighting options represent the first time that LLTeK will be able to offer TT owners these lighting upgrades which are as different as night and day. The new housings will be available in both popular styles of black e-code or clear multi-light "alteeza".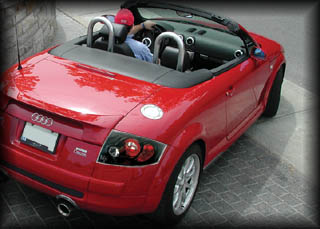 Chrome Version for the TT: The interior of this bright crome bezel lamp is high styling and intensely visual and visible. The exterior lens cap is totally clear with a reflective ribbon on the rim and is a large design factor in the high profile nature of this product.

Black Version for the TT: The black stealth interior is a backdrop for the barrel lenses and the cascading corner shield. The outside lens is again all-clear and draws the eye to the details of the interior.

Both of these tail lamp housings are expected at LLTek's distribution center in September or October. Pricing for either style is projected at $266 per set.
LLTEK will answer questions about tuning your TT and these new tail lights - toll-free at 1 888 465 5835.
Click and and View List of ALL Press Releases



Click and Return to LLTeK Home Page