August 20, 2004 - LLTEK Offers Ultimate in Porsche® Cayenne® Tuning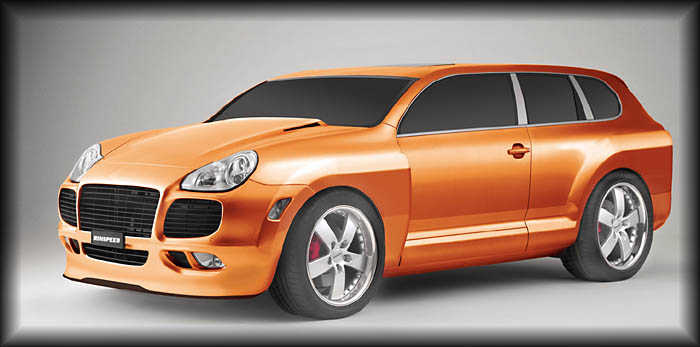 Rendition of Rinspeed's Total Customization of the Cayenne® 955
LLTeK Motorsports, a supplier of Swiss-based Rinspeed products will soon roll out its 'Chopster'. "California meets Switzerland" is the theme in this entirely uncommon offering utilizing the Cayenne® 955. Deep pockets will be needed to take advantage of this unique offering; projected costs in euros, depending on options, range from 325k to 375k or $400,000 to $465,00 US. All completed projects will be certified as an edition with a guarantee no two will be exactly the same. North American owners of the Cayenne should note that they will also be responsible for shipping and insurance costs to and from the continent. The car can be configured many ways but most importantly - to the owner's individual tastes.

Here's what you get for your money - based on specifications that are subject to change:
A, B, C and D pillars are lowered approximately 150 mm (6 inches).
Power plant producing 600 hp and almost 800 Nm of peak torque
Standing start to 100 km/h (0 t0 60) under five seconds
All glass panels reworked to original functions
Top speed of 290 km/h - (180mph)
Custom hood
Modified side sills, steps and rear
Integrated and concealed interior roll bars
Oversize air ducts, fender flares and aero-venting
10J x 23 size wheels fitted with size 305 tires on front and rear axles
Four independent bucket seats - very comfortable when cornering
Custom interiors - choices of leather, carbon fiber and/or aluminum plus electronics
Elimination of rear doors and modified hatch yielding a true three-door vehicle.
LLTeK will answer questions regarding total customization of the Cayenne® 955 toll-free at 1 888 465 5835.
Click and and View List of ALL Press Releases



Click and Return to LLTEK Home Page