September 29, 2004 - Now Available for the RSR - Full Lip Splitters in Carbon Fiber or Composite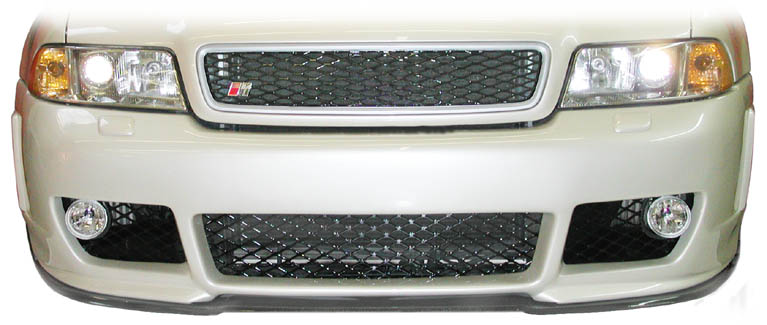 Carbon Fiber Splitter illustrated on the Audi S4
RSR Front Bumper and Carbon Fiber Splitter
Optional Large Mesh
Xenon HID Corner Driving Lights
RSR.5 Open Grill with no Hood Release Option
LLTeK announced today that in addition to the smaller center splitters currently offered (available in carbon fiber and composite options) - large, full, wheel-to-wheel versions are now available with the same carbon fiber/composite option. Better than stylish - both versions of splitter divert air to the brake disc area and create additional down pressure for additional stability at higher speeds. Both versions come pre-drilled with all bolt-on hardware and can be retro-fitted to LLTeK's RSR bumper. The resulting look is technical and complements the RSR's already winning competitive look.
The photographs show a full carbon fiber lip splitter mounted on the RSR bumper of an Audi S4 B5. Also featured in this gallery is another LLTeK innovation - the new RSR.5 center grill with no hood release handle hole. Shown throughout is LLTeK's Large Mesh option with ultra-powerful HID Xenon driving lights. Call and speak with a knowledgeable LLTeK representative today. LLTeK will answer your questions toll-free at 1 888 465 5835.

Part# KAZB5-06CF (Carbon Fiber) Part# KAZB5-05F (Composite)
Click on any image to view an enlarged version.
Click and and View List of ALL Press Releases



Click and Return to LLTEK Home Page