October 5, 2004 - New EXT Bodykit Styling Program for the Porsche 996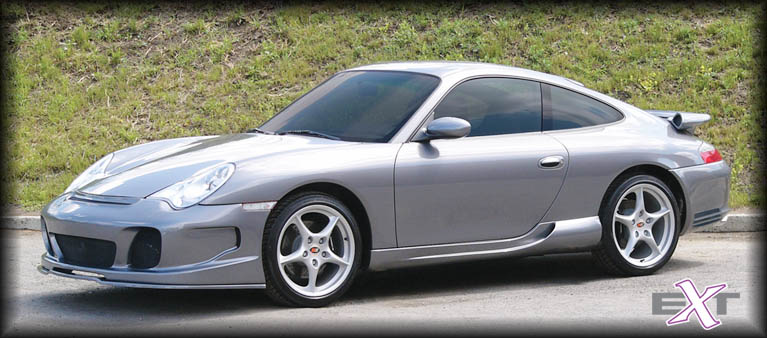 All New Aero Styling from Europe Transforms Porsche 996
Today LLTeK announced a distribution agreement with EXT GmBh that will bring an entirely new line of European aero-styling options for the Porsche 996 to car owners in North America and for that matter - the world. EXT is a leading designer of Tuner Styling Accessories for Porsche cars and is working in close cooperation with LLTeK in developing options for Porsche enthusiasts in North America. The EXT front bumper requires a "Turbo" version headlight (released in North America in 2000 with the 911 Turbo Model) and fitted in all 996 chassis since 2002. Any Boxster (1997-2004) or non-turbo 996 (1999-2002) already upgraded to the newer headlights (click here now to view a photo comparison of these two different headlights) will qualify for this upgrade from LLTek and EXT. Included with the kit price is a rear wing available for coupe or cabriolet. 996 enthusiasts must specify at time of reservation whether the cabriolet or coupe version of the spoiler is required. The EXT design team and its efforts will continue to evolve in the coming years and LLTeK will be part and parcel of the process that brings quality and diversity to the tuner community.
The EXT Kit is available in two versions and is comprised of 5 out of 6 items as follows:
E-XT APO 00143-FB :: Front Bumper :: $1666 :: PC/II
E-XT GLA0010-C :: Composite Splitter :: $444 :: PC/BB
E-XT GLA0010K-K :: Carbon Fiber Splitter :: $888 :: PC n/a
E-XT EPO 00104-SS Set Side Skirts $999 :: PC/AA
E-XT BPO 0098-RB Rear Bumper $1666 :: PC/II
E-XT PPO 0032-RW Rear Spoiler $1333 :: PC/II
A unique pricing feature for the complete EXT upgrade is a 15% discount offer on kits reserved for delivery as they are landed in 2005. This arrangement allows Porsche car owners to reserve and purchase (with substantial savings) from the first consignment of kits that LLTeK will receive; and the transaction for payment is not processed until the kit is shipped and on route to the owner.
KIT Discount: E-XT DISC12456PK (Composite Splitter) :: $5192 :: Regularly $6108 :: Saves $916
KITDiscount: E-XT DISC13456PK (Carbon Fiber Splitter) :: $5570 :: Regularly $6552 :: Saves $982
Also Available But Not Included in EXT KIT:
E-XT PPO 0039-H/S :: Rear Window Spoiler :: $333 PC/BB
KAZ996-02 :: Headlight Masks for 996 2003-2005 (with washer) :: $333 PC/DD
KAZ996-01 :: Headlight Masks for 996 1997-2002 :: $333 PC/DD
The EXT upgrade and many other accessories for the Porsche 996 are covered by LLTek's MatchPaint Program. Call LLTek toll-free at 1 888 465 5835. A friendly and knowledgeable LLTeK representative will respond to all your questions.
Click Here for LLTeK's Website Section for Porsche
Click and and View List of ALL Press Releases



Click and Return to LLTEK Home Page