December 14, 2004 - E-Code Headlight Upgrades for the pre-facelift Audi A4 B6(8E) Advisory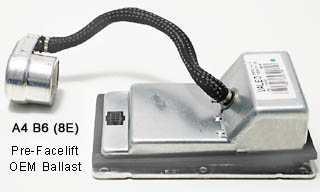 LLTek wishes to advise of the following variations of the B6 headlight. Owners of cars which are early USA/Canada models (year 2002 and some early 2003) equipped with factory DOT Xenon headlights, wishing to convert to E-code Xenon headlights, should be aware of certain compatibility issues.

Early HID headlights have the ballast tucked under the headlight base and in a special pocket. Newer versions have the ballast attached in a pocket at the back of the headlight. Note: The two ballast versions are not interchangeable. Their physical sizes are different and the plug connections are different. So, if you want to migrate from the early stock headlights with OEM ballast to upgraded e-Codes headlights, it will require purchasing the newer ballast for the newer headlight. LLTeK will maintain some inventory of both ballasts.

For further information, call LLTeK toll-free at 1 888 465 5835. A friendly and knowledgeable LLTeK representative will help you with your questions.
Click and and View List of ALL Press Releases



Click and Return to LLTeK Home Page