January 15, 2005 - New Custom-Fit Carbon Fiber Rear Aero Diffuser for the Audi A4/S4 B5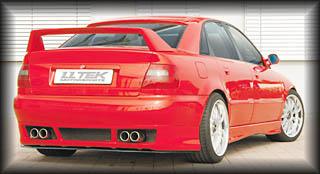 Today LLTeK released details on a new, custom-fit Carbon Fiber rear aero diffuser for the Audi A4 B5. The diffuser, expected to be in-stock early in January 2005, is specifically designed to complement the "V2" lower rear valance upgrade (shown at left) manufactured by Rieger in Germany for the Audi A4 and S4 B5. Evoking "track" heritage, the new carbon fiber diffuser has a very technical profile and complements a matching front Carbon Fiber diffuser which will fit both the Rieger RS4 Look bumper and UBERHÄUS' RSR front bumper.

The new carbon fiber diffuser is expected to have broad appeal in the Audi enthusiast community based on its integrated design and easy bolt-on application. All questions regarding price and availability will be answered by a friendly and knowledgeable LLTeK representative reached toll-free at 1 888 465 5835.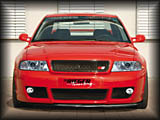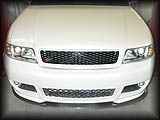 Matching Front Bumper Carbon Fiber Diffusers Shown on Rieger RS4 Look bumper (A4 B5) and UBERHÄUS RSR bumper (S4 B5).
Click and and View List of ALL Press Releases



Click and Return to LLTeK Home Page