January 15, 2005 - UBERHÄUS Full Lip Spoilersfor Audi S4 B6 (4.2)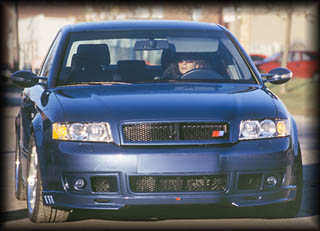 UBERHÄUS has now supplied LLTek with its first shipment of S4 B6 (4.2) Lip Spoilers. This long-awaited aero upgrade is now in stock! The UBERHÄUS design incorporates aggressive styling with outstanding fitment and ease of installation for both North American and European S4's. Installation is documented and requires approximately 1 hour. Transformation is positively immediate.

Once installed, this S4 upgrade projects an uncomprising look of strength and speed, particularly if the front foglight air scoops and lower center grill from LLTeK are installed - complementing the transformation. A unique feature for the lip spoiler is that enthusiasts can request the two styling side indents be removed (for a minor fee). In addition, the corners of this lip spoiler can be specified in an alternate color option. The Lip Spoiler, Lower Center Grill and Air Scoops are available pre-painted to match the color of the car. For more information contact LLTeK motorsports toll-free at 1 888 465 5835.


Click and View Bodykit Tuning Options Audi S4 B6 from LLTeK
Click and and View List of ALL Press Releases



Click and Return to LLTeK Home Page