February 3, 2005 - LLTEK Body Kit Styling Line for the Audi B5 Expanding with Rieger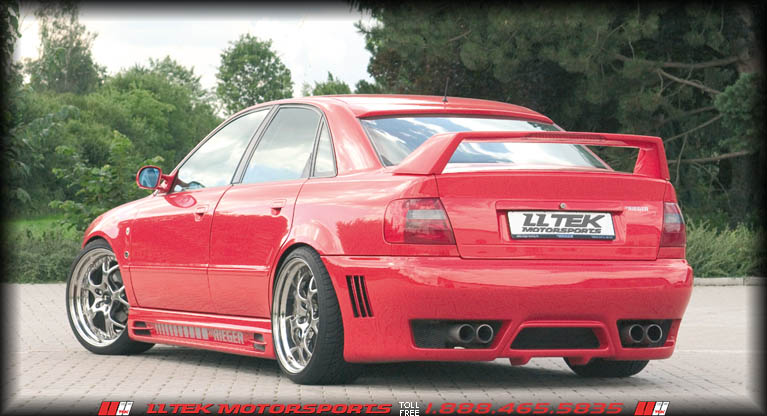 Sideskirt Mesh and Mesh Installation included in MatchPaint Option. Rieger decals not included.
LLTek Motorsports announced the addition of two new Rieger aero styling components for owners of the Audi A4 B5 ('96 - '01). Rieger performance and aero upgrades are well known for their technical styling features and these new pieces reinforce the reputation. The all new sideskirts plus rear bumper will be offered to enthusiasts for the first time in 2005.

The new Rieger V3 sideskirts are an entirely fresh look for the Audi B5 and feature split venting with mesh - front and back. Options currently being considered for the sideskirts include decals and carbon fiber inserts. In the meantime, LLTeK offers the mesh and mesh installation as part of the finished MatchPaint purchase option. Contrasting color for the mesh will also be offered for an additional but reasonable charge.

The new RSLook rear bumper also incorporates louver venting which mirrors the louver venting of Rieger's RS4 and the UBERHÄUS RSR front bumper. This "euro version" rear bumper for the sedan (not Avant) gives the Rieger RSFour and the UBERHÄUS RSR an overall consistency that screams "track and speed." Call LLTeK toll free at 1 888 465 5835 for more information.

Rieger Tuning Audi A4 B5 Pictures and Pricing - Click Here Now
Click and and View List of ALL Press Releases



Click and Return to LLTeK Home Page