February 9, 2005 - Valeo Headlights for Audi A4 B5 and Audi A4 B6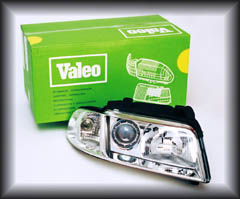 LLTek Motorsports has received a large consignment of European Headlights (e-code) for the Audi A4 B5 and B6. Regular pricing remains in effect for the meantime, however, the strengthening Euro means it is advisable to place your order as soon as your decision has been made to proceed. Several variations of European Headlights from Valeo ( an OEM supplier) are currently in stock. Call LLTek toll-free at 1 888 465 5835 for more information.
Models Available in Chrome, Stealth Black or Titanium.
| | | |
| --- | --- | --- |
| | | |
| Part# VAL8E-14R(HID)PASS | Part# VALB5-04R(HAL)PASS | Part# VAL8E-11L(HID)DRIV |
Click and and View List of ALL Press Releases



Click and Return to LLTEK Home Page