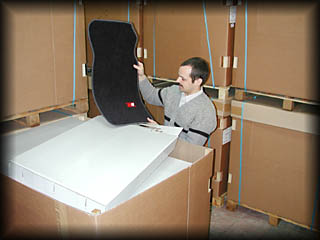 Finally, the LLTeK carpet order has arrived. There are numerous back orders and most will be automatically filled. Here is the current rule of thumb. If the order is on file from after November 1, 2004, the order will automatically be shipped. Orders prior to November 1, 2004 back to August 1, 2004 will be called (once) to reconfirm their requireorder. Orders prior to August 1, 2004 will be blocked and will a telephone call from the purchaser to reactivate the order. If not reactivated, the order will be automatically cancelled. Yes, 18 pallets is a lot of mats. However, these mats are special and move quickly. They are excellent value.

What is so special about the LLTeK molded carpets? Well, for sure they are unique. These molded heavy duty versions are designed to perfectly fit into the floor pan of the A4 and A6. In addition the molded versions fit snugly up to the edge sill and ride several inches up the center console. The result, trapped debris. The carpet surface is a high density, low pile, easy to wash carpet bonded to a waterproof plastic pan. This creates a very large catch basin for sand, dirt, snow or general grime. The heavy duty heel pad is electronically welded to the carpet. LLTeK has sold hundreds upon hundreds of these carpets and purchasers are always happy with the product and its price. It's the perfect winter carpet yet Floridians love them as well.

Although the Euro has risen dramatically, LLTeK will hold the price to levels several years ago. This means the purchase is truly a "super buy". Each set comes with the LLTek logo on the front mats. A very useful related product is LLTeK's line of custom trunk liners and for the A4 B5 the cargo net systems plus custom made to measure A4 car covers.
Listed below are quick reference part numbers, pricing of all carpets, nets and trunk liners. You can find additional information about the carpets elsewhere on our website and throughout the 2005 catalog.
Price Schedule for LLTeK Mats

Model/Chassis
Style
Logo
Color
Pieces
Years
Part#
Price



Mats For the A4 / S4 B5 - Sedan and Avant

A4 S4 B5
Molded
YES
Black
4
'96-'02
FACB5-05
$99
A4 S4 B5
Molded
YES
Charcoal
4
'96-'02
FACB5-04
$99
A4 S4 B5
Flat*
YES
B/S/R
4
'96-'02
FACB5-01
$99




Mats For the A4 / S4 B6 - Sedan and Avant

A4 B6 8E
Molded
YES
Black
4
'02-'06
FAC8E-09
$99
A4 B6 8E
Molded
YES
Charcoal
4
'02-'06
FAC8E-08
$99




Mats For the A6 C5 (4B) 2.8 and 2.7T - Sedan and Avant (1998 and on)

A6 4B C5
Molded
YES
Charcoal
4
'98-04
FAC4B-05
$111
A6 C5 (1998 to 2002 ) are for the narrow body cars only. This means 2.8, 3.0 and 2.7T. The mats fit the Avant and allroad with these motors. The mats do not fit the 4.2 due to the wider transmission, although simple trimming with scissors should provide a reasonable fit.




Mats For the A6 C6 3.0 and 4.2 - Sedan and Avant (2005 and on)

A6 4B C6
Molded
YES
Charcoal
4
'05 and on
FACC6-01
$111
New A6 - The new 2005 and onward A6 C6 contoured mats are also in and fit the 3.2 and 4.2 cars. The supply of these mats is limited so order now and do not be disappointed.




Mats For the TT 8N - Roadster (2000 and on) and Coupe (1999 and on)

TT Coupe
Flat*
YES
B/S/R
4
'99 and on
FAC8N-02
$99
TT Roadster
Flat*
YES
B/S/R
2
'99 and on
FAC8N-03
$77

* Flat mats are always black carpet surface, charcoal edge trim on the A4 B5 and silver edge on the TT, red edge trim around the reinforced heel pad area plus an LLTek logo (embroidered). These colors are also the primary colors of Audi's racing teams (black, charcoal silver, red). The carpet colors work well with most exterior paint colors except green, beige, etc. For these exterior colors you may want to use the mono chromatic contoured/molded mats.