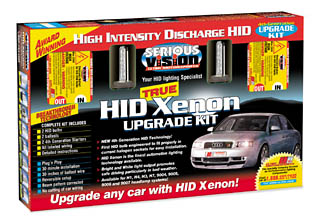 New 2005 5thGeneration HID Conversion Kit now available from Serious Vision with approximately 15% reduced price of $488 dropping from $555 on H7, H1 and H3 kits, a savings of $67. The new "High Efficiency" super ballast contains fully redesigned ultra high performance electronics and a 5th Generation integrated high powered dual heavy duty igniter. The most important new feature is an inline electronic "Sonic Line Filter" which is located just prior to each bulb. The new Sonic Filters eliminate and filter cross talk within the wiring loom which concurrently carries certain computer signaling. This reduces "bulb out" messages on the dashboard plus flutter while providing a purer Xenon gas beam. All Serious Vision systems are now 6000 Kelvin (K).




NEW "Sonic Line Filter" - Specific for Audi, BMW, Mercedes and Porsche Cars
Eliminate Cross-Talk and Flutter


Understanding the "K" Factor - K stands for Kelvin.

Kelvin is a scientific term used often in measurements of light - used to describe color warmth or color coolness. Originally all HID bulbs were DOT 3900K for Europe and USA. This is the coolest of all white HID colors exhibiting a trace of blue. 99% of all cars OEM equipped with HID are 3900K. As the K value gets higher, the light color appears a little bluer. LLTeK considers the most advantageous performing K level is between 3900K and 6000K. At around 7000K two noticeable changes occur. The blue tone of the light migrates to purple and the white color diminishes. More importantly, the actual performance of the bulb diminishes at higher levels than 6500K. Therefore all Serious Vision conversion upgrades are 6000K rating which LLTeK believes gives optimum performance with the cool white look and a nice trace of blue.

Serious Vision Kits are specially engineered for continuous performance in Audi, BMW, Mercedes and Porsche cars. All of these cars have experienced problematic upgrades. However, with the new 5thGeneration kits with Sonic Filters, the kits perform extremely well. Call LLteK toll-free at 1 888 465 5835 with your lighting questions now. A friendly and knowledgeable LLTeK representative is prepared to answer your questions.