If your car is an Audi A4 or S4 B5 1996 to 2001 (2002 for S4), you can now order the new RS full rear bumper. The design is similar to UBERHÄUS and styles well with the UBERHÄUS RSR front bumper or the Rieger RS4 front bumper. Options for sideskirts have never been better with the addition of the V3 vented skirts. The bumpers will all work whether the tuner's choice is original "twisted" V1 skirts, deeper bolder V2's or now - streamlined aero vented V3's. At a later date carbon fiber mid-section inlays and wheel-to-wheel lower rear splitters, also in carbon fiber may be offered as options.

Many enthusiasts who order the more traditional rear lower V1 or V2 valance substitution spend extra money to blend together the top bumper to the leading upper edge of the V1 and V2. Now, with the new RS-V3 full rear, no blending or blending costs are needed - plus the bodykit styling is fresh, bold and exciting. As a "special order" option, the rear bumper is available minus the side air vents (see rear bumper on grey Avant above). Calculate an increased lead and production time for these special versions. Avant versions will also fall under the special order category as well.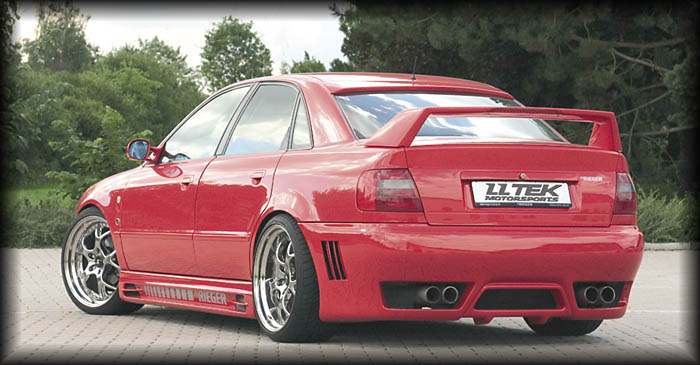 Rieger RS full rear bumper for the Audi A4 B5 - Sedan shown with vents and V3 side skirts.
This bumper has the European lean profile edge protrusion as it is full Euro specification. In other words it's about 1.75 inches shorter than your typical USA/Canadian back bumper and the look is very very Euro slick. We shall post close-up pictures shortly. This bumper also replaces the UBERHÄUS rear bumper as the versions are nearly identical. The RSR front bumper effectively has a working match in Rieger's full rear RS V3.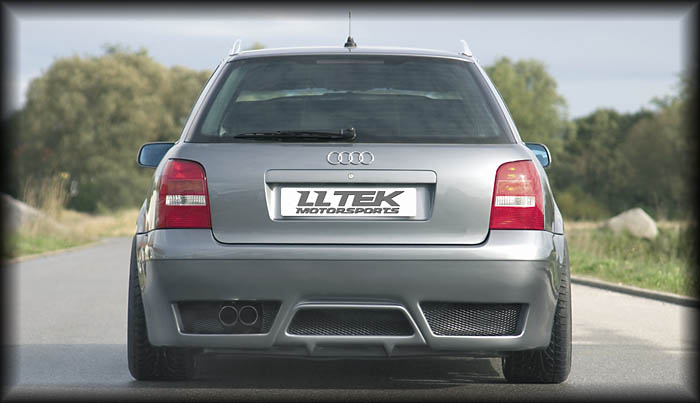 Rieger RS full rear bumper styling for the Audi A4 B5 - Avant shown.
Advisory / Technical Note / Warning
Do not expect to be able to install the new RS rear bumper on a USA/Canada car unless you have a set of engineered Technical Adapters. Without these TAs, you cannot install or align the USA/Canada metal reinforcing collision brace. With the TAs you can. Our German supplier sent LLTeK a pre-production model to develop the TA device. We assured them that LLTeK would come up with a safe, effective solution utilizing the USA/Canada collision bar. The end result is that with the Technical Adapters, you can easily install the RS bumper on a USA/Canadian spec car with adapters costing $66 per set. Note: There are separate bumper models for the Sedan and Avant. Deletion of side vents is always possible as an option.
Call now on LLTeK's toll-free line and speak with a friendly and knowledgeable Rep.
I 888 465 5835 1 888 GO LLTEK
Price Schedule - RS Full Rear Bumper for A4/S4 B5
Item Code
Item Description
Price
Note
1. RIE B5-21-S
Sedan: Full RS Rear Bumper A4 (B5) - VENTS
$622
n/a
2. RIE B5-22-S
Sedan: Full RS Rear Bumper A4 (B5)
Without VENTS
$622
(1)* (2)*
3. RIE B5-21-A
Avant: Full Rear RS Bumper A4 (B5) - VENTS
$622
(1)*
4. RIE B5-22-A
Avant: Full Rear RS bumper A4 (B5)
Without VENTS
$622
(1)* (2)*
5. LLB5-01
RS Technical Adapters (TA)
for USA/Canada cars (set)
$66
(4)*
6. MPO-AA
Paint Match Option
$199
n/a
7. KAZB5-02-21
Carbon
Carbon Fiber (real) overlay trim
for lower RS center section
$288
(1)* (3)*
8. KAZB5-03-21
Carbon
Carbon Fiber (real) full under splitter for RS bumper(2)
$288
(3)*
9. Mesh option
Specify large RS (Tuner Recommended) or small mesh
$44
n/a
Pricing current at time of publication - Pricing subject to change
Note KEY:
(1)* Special order - increased lead time and availability
(2)* No side vents option - increased lead time and availability
(3)* Release dates to be announced.
(4)* RS Technical Adapters allow fitment of the RS Bumper on a USA and Canada A4 and are only sold with the purchase of the RS rear bumper. Technical adapters are not available as a separate part.

Tuner Recommendation: Save Money on Shipping
To reduce shipping costs, we strongly recommend you order the front RSR or RS4 bumper at the same time as the RS rear bumper. LLTeK has a special reinforced box that will accommodate both bumpers in one box. This definitely saves money and reduces shipping costs.