April 27, 2005 - New Bodykit Styling Program for the Audi A6 C6 Unveiled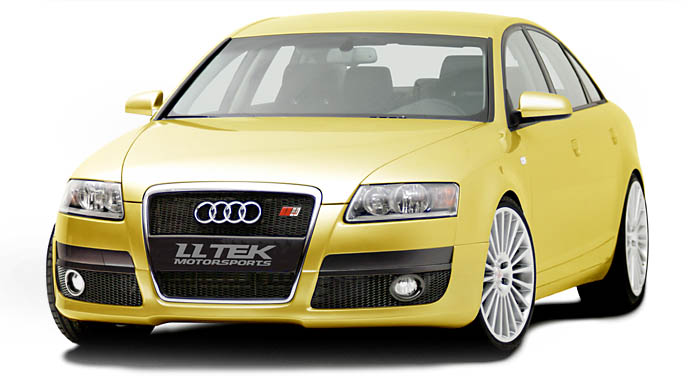 The aggressive body kit styling for this Audi A6 is achieved with a minor "no-paint" option.
Today, LLTeK announced the addition of a new Euro-styling kit that will soon be made available for Audi's recently and sucessfully launched A6 (C6). These exciting quality accessories for the 3.2 and 4.2 models from Belgian Designer/Manufacturer Caractere are to be carried by LLTeK and signal a "long-time-coming" recognition of a new generation of Audi A6 owners. The kit is clean, bold, proud and playful and reflects specialized styling inspired by Audi's RS6. Below is a list of items currently available and scheduled for release in the coming months by LLTeK.

Silver mirror shells (RS6 Finish not illustrated) or optional chrome - currently available.
LLTeK's unbeatable Mud + Snow Mats protecting your interior - currently available.
An aggressive grill featuring tight mesh reminiscent of RS2 race grill.
Front Spoiler in flexible Purim featuring optional intake sizing.
A rear deck spoiler with purposeful but quiet profile.
An exhaust valence with optional exhaust tips.


click here now for Audi A6 bodykit photos and pricing

Call now on LLTek's toll-free line and speak with a friendly and knowledgeable Rep.
I 888 465 5835 1 888 GO LLTEK
Click and and View List of ALL Press Releases



Click and Return to LLTeK Home Page