July 7, 2005 - Rear Bumper for the Audi A4 B5 - Euro Version Rieger RS Look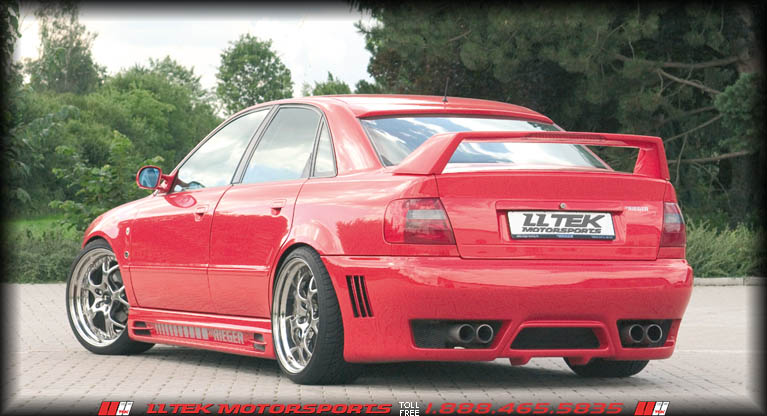 LLTeK's innovative approach to the Euro Fit Audi A4 B5 Rear Bumper provides new tuning choices for enthusiasts.
Equipped with LLTeK's custom-made and custom-designed Technical Adapters, the Euro fit, full rear bumper from German tuner, Rieger, is now shipping. The more shallow Euro bumper (approx. 2") gives the Audi B5 car an authentic European continental profile. Customers who have opted for this exclusive LLTeK innovation have specified either the MatchPaint (ready-to-install) version or have taken the raw "unpainted" route. Either way, the completed transformation is outstanding and unique.

In addition to the Technical Adapters that allow the impact (collision) bar to be repositioned on their bumper shocks, LLTeK makes additional changes to the inside of the bumper and adds 2 special corner hangers. Should one wish to project a look that is more "conservative" than "trick", customers can further elect to special option the elimination of the side venting. Rounding out all of this is a choice in finishing mesh. LLTeK continues to develop choices for the North American Audi enthusiast. Watch for announcements later this year detailing carbon fiber overlays and a carbon fiber splitter.

Installation is now easier and faster. While the installation instructions (including tips and photo references) suggest an install time of 3 hours, seasoned shops should be able to install the bumper in less than 2. LLTeK will answer your questions - Call toll-free at 1 888 465 5835 or 1 888 GO LLTEK.


More Rieger Tuning Bodykit Pictures and Pricing for the Audi A4 B5 - Click Here Now
Click and and View List of ALL Press Releases



Click and Return to LLTeK Home Page