July 22, 2005 - LLTeK Does Really Cool Paint (again)!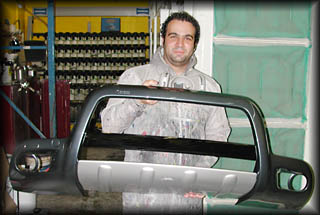 Every once in a while, even LLTeK staff are amazed and excited about the results of special paint applications. Most of our followers already know LLTeK has a great in-house paint facility using the highest quality Standox paints from Germany. Our mixing is all computer controlled and monitored. Our paint team (including our post-paint staff - (polishing and waxing) are dedicated to really great finished product and superior results.

So say hello to Peter, one of our lead artist / painters, who is holding a Caractere lower front valence for the VW Touareg. It has been painted three colors and it looked so good we had to post pictures. The part is on the way to a customer in New York. We know he's going to be really happy with the results because it's Grade A work done with great pride and care. For more information on LLTeK's high quality Match Paint Program, click on the MatchPaint link below. Our program is designed to save you time, effort and money.
To learn more about LLTeK's MatchPaint Program - Click on this link.
To view the Caractere Bodykit Options for Volkswagen Touareg - Click on this link
For further information contact LLTeK Toll-Free at 1 888 465 5835 or 1 888 GO LLTEK
Click and and View List of ALL Press Releases



Click and Return to LLTeK Home Page