August 2, 2005 - LLTek MatchPaint for Audi - Have It YourWay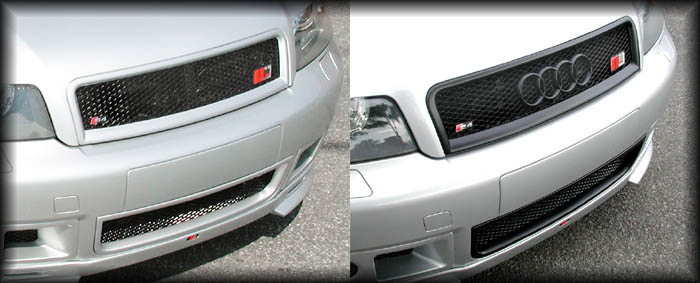 MatchPaint Grill Options for Audi S4 8E - (left) shown with MatchPaint and (right) shown with contrasting matte black.
For sure Audi enthusiasts are a creative group. Here are some snaps of an Audi B6 S4 with the upper and lower grills painted in a matte black finish utilizing a special matching S4 weave pattern (including the air intake scoops). The Audi signature "Four Rings" logo has also been painted matte black and glued into place. Here are some pictures of the before and after look, with and without matte black.

We like the matte black finish and the very technical look it creates. However what we are trying to emphasize here is that regardless of what we like or don't like - the most important aspect is what our customers want and what they like.
To view more bodykit photos and pricing for Audi S4 8E by UBERHAUS- click here now.

For further information contact LLTeK Toll-Free at 1 888 465 5835 or 1 888 GO LLTEK
Click and and View List of ALL Press Releases



Click and Return to LLTeK Home Page