January 4, 2006 - LLTek Introduces Refreshment Grill Kit
Happy New Year!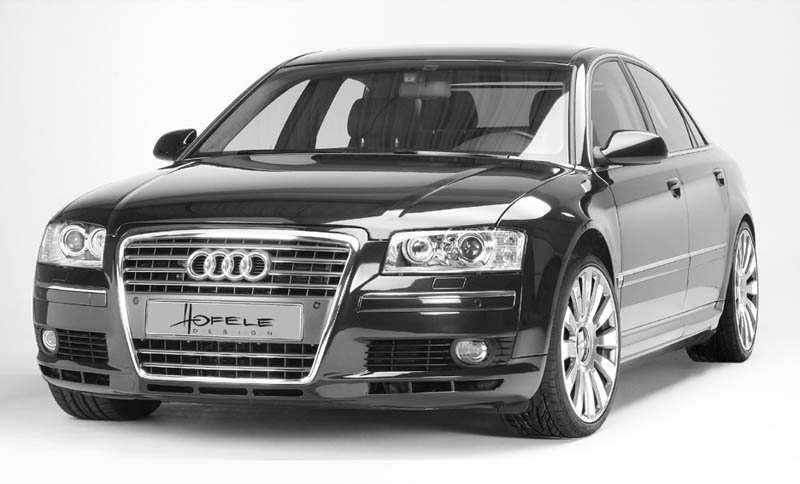 Pre-facelift A8 D3 shown with upgraded grill kit from respected German design house Hofele.
Direct from Germany is the fantastic all-new upgrade for all Audi A8 D3 cars that fall into the pre-facelift (PF) category (USA/Canada years 2004 and 2005). Now you can upgrade your A8 D3 car to the current styling look of the D3 which presents Audi's new facelift (WF) with the large front grill. This investment will transform your pre-facelift Audi A8 into the current standard look. It's a simple and easy transformation to complete. There are no changes to the headlights, hood or internal bumper protection system. You can choose the standard Audi A8 4.2 grill or the A8 W12 grill, the difference being that the W12 grill has double chrome striping at a slight increase in cost. Versions will be available for cars that have proximity sensors and for those that do not.

This grill upgrade will be available sometime mid-February. Should you want this upgrade, arrange for your deposit to ensure you are on the supply list. Understandably, this item will be available in limited quantities. The parts are optionally available pre-painted (customers will need to supply the easy-to-find Audi "factory paint code") and will arrive in matching color to simplify and reduce the cost and effort for this conversion.
Pricing details will be posted shortlyand they are expected to be reasonable.
For further information contact LLTek Toll-Free at 1 888 465 5835 or 1 888 GO LLTEK

Click and and View List of ALL Press Releases



Click and Return to LLTEK Home Page