February 16, 2006 - TTuning - Alive and Well in Mexico City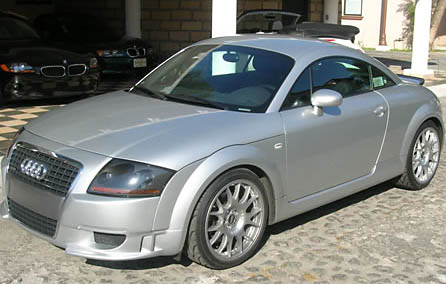 Pure RS look for this TT sporting an A8 grill (yes! an A8 grill) emulating Audi's freshest face.
LLTek likes to share unusual stories about shipments abroad. Here are customer supplied images of an installed and finished front bumper and grill kit that LLTek shipped to Mexico. Also included in this modification was the black add-on rear wing "Type RS" spoiler. This is a replica part fitting on to the existing rear TT wing. Total install time for the rear spoiler was 30 minutes. But the buzz is the front of the car which sports the new Audi A8 grill to give the car the fresh new Audi look. Check the corner vents in the front bumper. Pure RS look.
Click here now for more images and pricing
Click on any image to view an enlarged version.

Click and and View List of ALL Press Releases



Click and Return to LLTEK Home Page