October 1, 2002 - LLTeK's Great TT Roadster Cover-up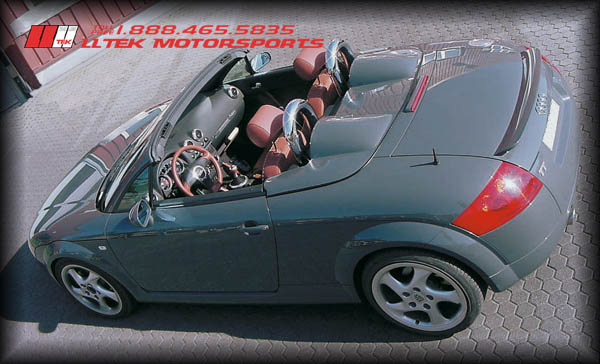 LLTeK Motorsports announced today a unique addition to the company's TT offerings in the form of a Speedster Upgrade. TT enthusiasts will be pleased to see how well this Roadster-only accessory lends itself to recreating the classic two-seater racing look. LLTeK's first shipment, currently in transit from Europe, will arrive shortly.

Designed and manufactured in Germany for TT Roadster (years 2000 and on) - this cowling can be painted and finished in color of choice. Durable, lightweight and tastefully integrated into the TT's original lines, the "UberHaus" cover from LLTeK will show to advantage at any speed. And it's easy-on / easy-off - so if the weather turns on you - the cowling will store in the trunk.

This item has not previously been available in North America - any questions regarding pricing and availability will be welcomed on LLTeK's toll-free line - 1 888 465 5835.
Click and and View Classic Roadster Audi TT Photos...

Click and and View List of ALL Press Releases...



Click and Return to LLTeK Home Page