March 27, 2007 - Hofele Produces RS4 Look Bodykit Styling Kit for Audi Cabriolet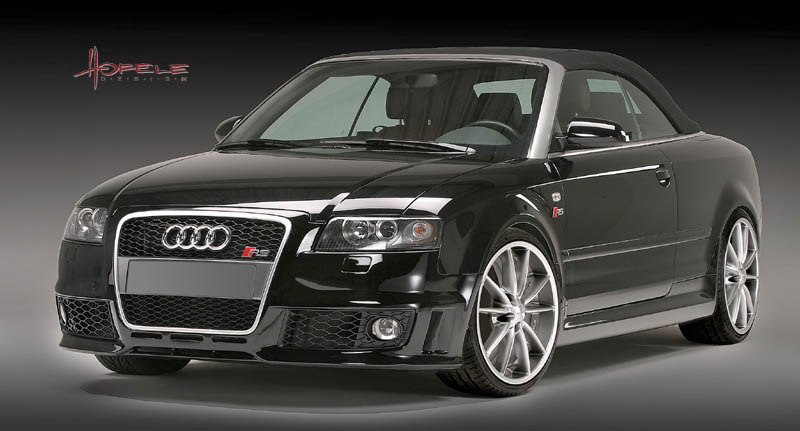 Photo of an Audi Cabriolet modified to RS4 Look by Hofele featuring mirror shells and matching mesh grillwork.

In Europe, Audi has released its latest Cabriolet - the ultra-high performance RS4 version. It starts, stops and corners just like a race car and that's because it has all the credentials of a genuine track machine; but this car is street legal. Unfortunately, this "super" (as in superior) Rag Top from Audi is not scheduled for release in North America. Fear not - there is good news! As of today, there is an alternative to packing up and moving to Berlin. True, you won't be getting the guts with Hofele's RS4 Cab Look conversion and upgrade kit but where are you going to find an autobahn in North America anyway.

Now you can now have the look of the European version RS4 and LLTeK will supply it. Any Cabriolet (USA with the original small grill) will accept this upgrade, including the 4.2 S4 Cab. Order the newest upgrade kit and the RS4 OEM modified grills. It's a straight and easy bolt-on affair and the look is superb. Ask about LLTeK's MatchPaint program to get your project off to a headstart.

Call LLTeK with your questions today - toll-free at 1 888 465 5835 or 1 888 GO LL TEK.

Click and and View List of ALL Press Releases



Click and Return to LLTEK Home Page