April 3, 2007 - RS4 Satin Silver Mirror Shells for A3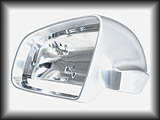 Good News. Accessory options occasionally fall out of the sky unexpectedly and this happened recently. Competitive auto markets mean manufacturers are always looking for production savings and Audi is no exception. In this case Audi has designed a car part that has been incorporated into more than one model. Buying larger volumes will reduce unit costs etc….
If your car is the new Audi A3 3-Door or A3 5-Door (Sportback), LLTeK's replacement mirror shells in (silver satin finish) an RS4 / RS6 color and finish - will fit your car.
Call LLTeK with your questions today - toll-free at 1 888 465 5835 or 1 888 GO LL TEK.

Click and and View List of ALL Press Releases



Click and Return to LLTeK Home Page