May 24, 2007 - RS4 (B6 to B7) Update Report for Audi A4 and S4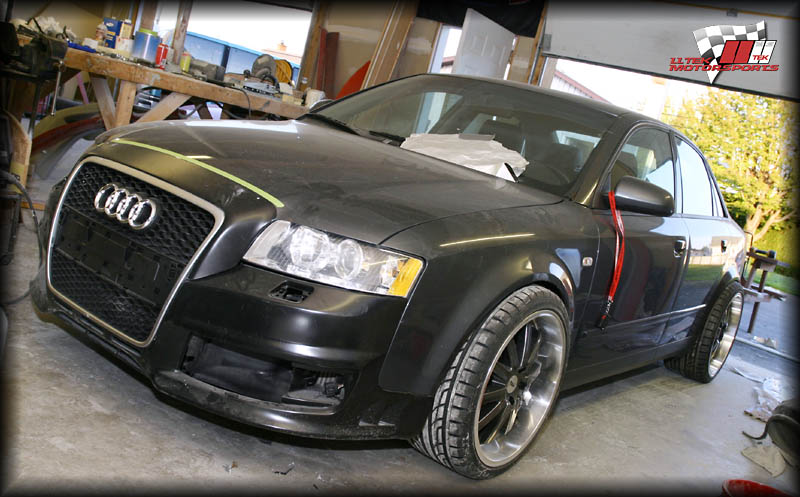 Photo of Tuner's Audi A4 B6 - RS Four look conversion in progress.
Many of our fellow Audi enthusiasts have followed the development of the newly released A4/S4 B6 front conversion to migrate upward to the look of Audi's super performer RS4 B7 car. Several felt it could not be successfully done and many had several misconceptions. That being said, a lot of energetic people have already purchased the conversion kit with very successful results. While this is not an inexpensive conversion, the car does go up one full platform (B6 to B7) and to the head of the class.



Photo of an Audi A4 B6 "Before and After" - converted to single frame RS Four look.
Feedback from people who have completed the conversion indicates all are exceptionally pleased with the ease of installation and end result. One very special customer is doing a step by step video of the conversion and we hope to make this video available at a later date.
Photo Gallery of Audi B6 Styling Conversion Kit - Blend and Paint

Click on an image for an enlarged version
Several Misconceptions
1. Must you purchase a new front hood?

The answer is "No". Included with each bumper is a small hood extension. It's about 6 inches deep times the width of the hood nose. This supplied part is easily attached (glues provided) then blended into the front hood nose section. Once completed the blended section is painted or the entire hood is painted along with the bumper. This blending is the only custom step of the entire installation and is not difficult.
2. It looks like a complicated and costly installation - is it?

The kit consists of a new front bolt-on bumper and the hood extension referenced above. The installation of the bumper is the same as any bumper. It goes off, certain transfers of components are made (impact bar, headlight washer system, home link, etc.) and that's it. Alignment of the new hood exterior component is detailed in the instructions and you cannot make a mistake. It's truly very simple. Yes, it's more than the cost of a normal bumper but it's a fantastic upgrade and investment to the look of the car. When it does come time to sell the car, the car will stand out from other A4 (B6) cars and a fast sale could be anticipated, as well as a superior price.
Photo Gallery of Audi B6 Styling Conversion Kit - Hood Installed
Click on an image for an enlarged version
Several misconceptions cont'd
3. Are the heavy duty hood shocks needed?

This is an optional item. Depending on the installer the need for this component is optional. It can always be added later. So far no one felt they needed the part. Its purpose was to compensate for the slightly heavier hood now that the blended part and larger grill form part of the hood.
4. Why fiberglass?

Cost and production issues. Some dislike fiberglass. However there is good, well engineered fiberglass out there. This hand-made bumper is excellent and carefully produced. It's well engineered and the fiberglass is first rate. But remember, approximately 50% of the front is the OEM Audi RS4 grill plus the corner foglight grills are Audi RS4 parts. Translation, the front is 50% plastic and 50% fiberglass. Remember, fiberglass is lightweight and easy to repair if need be. You cannot be disappointed with the quality.
5. What's coming and what else do to?
The RS4 look mirror shells are replacement parts, not covers. Their satin silver finish coordinates with the edge color and finish on the front RS4 OEM grill. These are worthwhile investments and easy to install. Coming are side skirts that replicate the real RS4 sides. There will be an RS4 style rear valance and even a tip conversion program that looks like the real RS4 set-up. On the trunk we recommend the JE design 3 piece deck spoiler with the trailing edge painted matt black (shown on blue car).
Photo Gallery of Audi B6 Styling Conversion Kit - Bumper Fitment
Click on an image for an enlarged version
Bottom Line
Today's A4/S4 B6 cars are often depreciated. Today, an Audi 2004 1.8T A4 can be purchased for approximately $15,000. The investment of a few thousand more dollars to make a total transformation is well worthwhile. It sets the car away from all others and need we say the look is dynamite. And, when the day comes to sell the car, your RS4 look will be your best friend, ensuring a quick sale and extra dollars for the newer look.
Photo Gallery of Audi B6 Styling Conversion Kit - Completed

Click on an image for an enlarged version
Postscript
There are several versions of the front bumper. You must tell us if your car is a Euro version or North American version, with or without headlight washers, etc. etc. We do not want you to purchase a version only to find out the part will not fit. Euro version bumpers are not the same as ours, both front and back. Impact bars are different size and the holders for the bars are also different. Take a look at the photo bank of pictures. Click on any photo for an enlargement. See the "before", see the conversion steps and see the "after". This car has the new version of the JE design rear valance plus exhaust tips that are well oversized (from our TT program). The side skirts are also JE Design. You can be your own designer once the front bumper is in place. Stay tuned for more news and the upcoming video.

Click and and View LLTeK's RS Four Look B6 Conversion Page



Click and and View List of ALL Press Releases



Click and Return to LLTEK Home Page