July 3, 2007 - RS Four Look Bodykit Components for Audi A4/S4 (B6) Available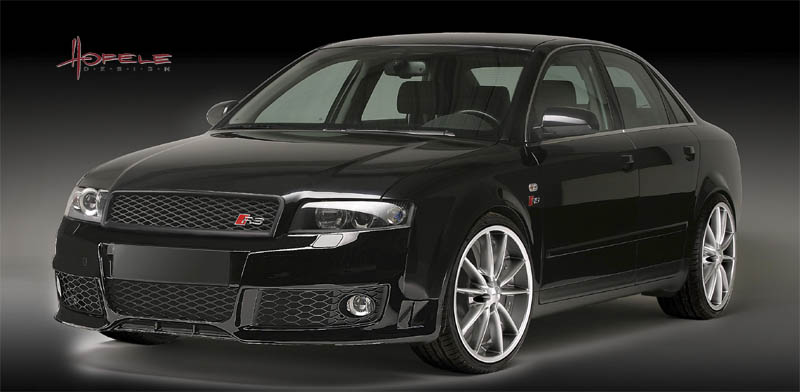 Photo of an Audi A4 modified to RS4 Look illustrated with RS Grill and RS Badging.

Today LLTeK announced the release of 4 more tuning elements that will complete the RS Four Lite body styling kit for Audi's popular A4 B6 8E. This eye-popping tuner's transformation is designed and manufactured in Germany by Hofele (a family business driven by brothers with more than 60 combined years in the tuning industry). The replica kit meets the high standard of manufacture North Americans have come to expect from German designers and engineers. Quality of tuning products is provided by the European Transportation agency in the form of TÜV approvals. Audi enthusiasts can consider this styling choice with the comfort and knowledge that there will be no surprises concerning fitment or finish.



The complete kit consists of the RS Look Lite bumper, RS grill, RS Four replica side skirts, RS Look rear valence and a new 3-piece RS trunk deck spoiler. The look is authenticated with RS style racing mesh and all parts are included in LLTek's MatchPaint Program. Also, watch for our announcement on the RS Look custom exhaust tip conversion which is expected shortly. Pricing details will be posted shortly and all questions concerning availability and shipping will be answered on LLTeK's toll-free line.
Call now at - 1 888 465 5835 or 1 888 GO LLTEK.



RS Four Front Bumper available with or without Parking Distance Control option.



RS Four Look Rear Valence features RS style mesh.



RS Four Look Side Skirts - sold in pairs and included in MatchPaint program.



Side-to-side RS Four Look rear deck spoiler.

Click and and View List of ALL Press Releases



Click and Return to LLTEK Home Page