July 30, 2007 - RSA Conversion Kit for Audi A4 B7 and Audi S4 B7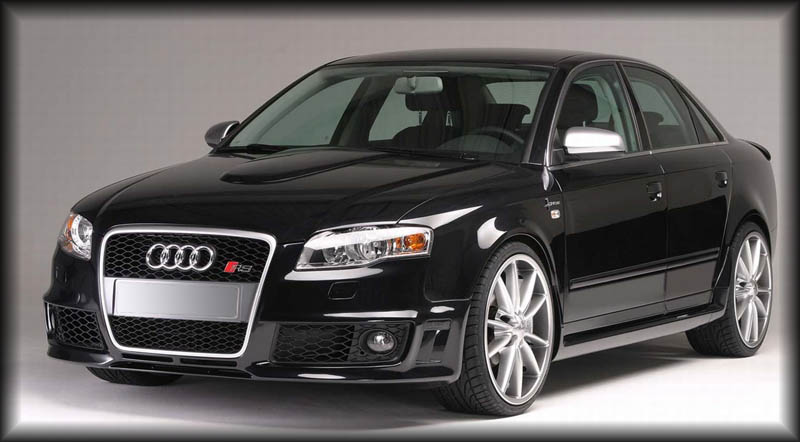 Converted Audi A4 B7 sporting RSFour Look Kit (plus OEM grill and fog bezels).
Today, LLTeK is releasing photos of a new front RS4 look bumper for the A4/S4 B7 Sedan and Avant. The central styling component is an all-new front bumper for the B7 which converts a basic model to the look of an Audi RS4. This RSFour Look conversion kit is also available for the A4 / S4 Cabriolet and the kits feature accomodation for models with or without Parktronic or Parking Distance Control. The conversion is a straighforward swap of OEM parts for kit components. Components of the kit include a discreet RS4 low profile wing (A4 only), RSFour side skirts (genuine RS4 skirts modified for the narrow body A4/S4 with front and rear fender integrators), and there is an RSFour Look rear valance to complete the overall look. The kit also features an optional power dome for the front hood and badging . Variations for the USA/Canada and Euro models provide choice and assurance your car can make the leap.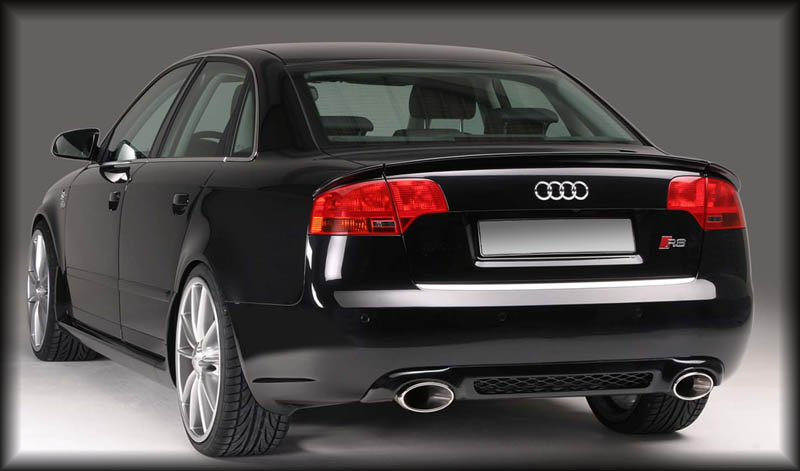 Authentic RSFour Styling is provided for A4 B7 and S4 B7 models - both front and rear.
The newly released RS Four Look conversion bumper takes the A4 and S4 B7 car to the full look of Audi's RS4 super car. The conversion is totally straightforward. Remove the original front bumper, migrate the headlight washers (and PDC parktronic if you have), transfer the home link box if you have, etc. and you are good to go. OEM RS4 side skirts with special wheel well integrators are factory-modified to fit the narrower body of the A4 and S4 and feature PURIM (Urethane) construction.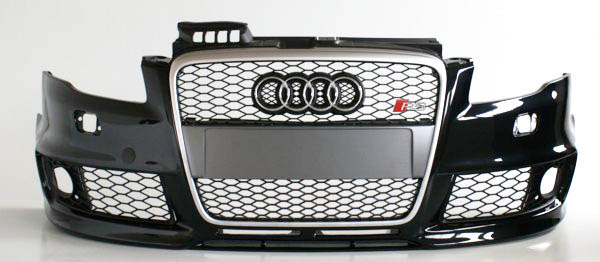 The front bumper requires an OEM grill and OEM fog bezels assuring zero fitment complications.




RS4 Look rear exhaust valence fits the A4 straight on while the S4 will require minor modification.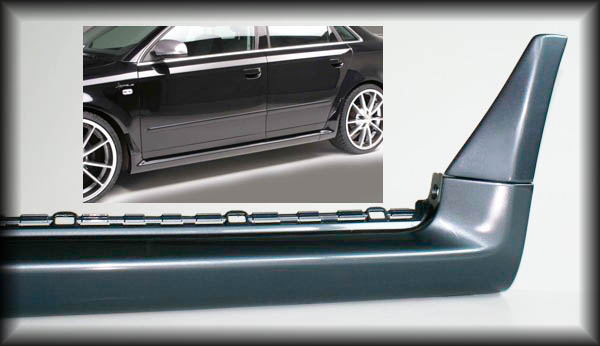 OEM Urethane sideskirts are shipped with custom wheel well integrators.




Discreet low profile RSFour Look trunk deck spoiler completes an A4 B7 Sedan conversion.

The main difference between the A4 B6 RSFour kit and the A4 B7 RSFour kit is in end pricing. Off the top, the B7 conversion kit is $200 less than its predecessor because there is one less piece (B6 hood extension) to install. This B7 kit does not require hood bonding, melding and painting. This greatly reduces shop time and installation costs. Also, when you purchase the large front RS4 grill (Euro version), unlike the A4/S4 B6 conversion, you do not have to modify the back of the RS4 grill. Everything just goes into place. This RSFour Look Conversion kit is designed and manufactured in Germany by Hofele and LLTeK has included this kit in the MatchPaint Program. OEM RS4 front grill and OEM RS4 fog bezels are not included with the purchase of the bumper but are available from LLTeK.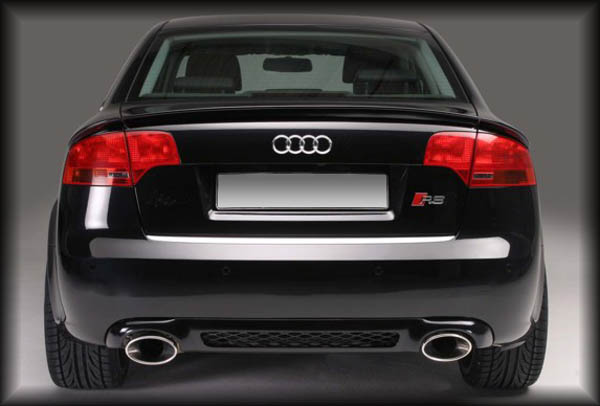 Great styling, design, manufacture and fitment now available.
Click and and View For More RSFour Look Pictures and Pricing

Call toll-free with your questions today - at 1 888 465 5835 or 1 888 GO LL TEK.

Click and and View LLTeK's A4 B7 Tuning Pages



Click and and View List of ALL Press Releases



Click and Return to LLTEK Home Page