September 6, 2007 - Audi A5 / S5 and European RS Styling




LLTek and Hofele announce a new RS styling package for the Audi A5 and S5 cars. Although the subtleties of the design is undergoing final adjustment and although the conversion kit is not yet available, the pictures denote a styling approach directed towards the R8 super car.


With the new "Lamellas" (Lamella is the word used to describe the multi-tier striated vents) integrated into front and rear bumper, the car takes on a far more aggressive, sporty and certainly a more interesting look. Add to this the lower super bright corner driving lights, tasteful side lower enhancements and a new cross trunk low profile spoiler, the car takes on super status looks.



LLTek will keep you informed as to prices, special options and more details as they become available. Late fall 2007 is the target date.
Call toll-free with your questions today - at 1 888 465 5835 or 1 888 GO LL TEK.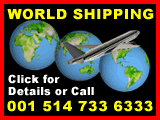 Click and and View List of ALL Press Releases



Click and Return to LLTEK Home Page