August 27, 2008 - LLTeK Introduces TTR Carbon Fiber Look Rear Bumper - Audi TT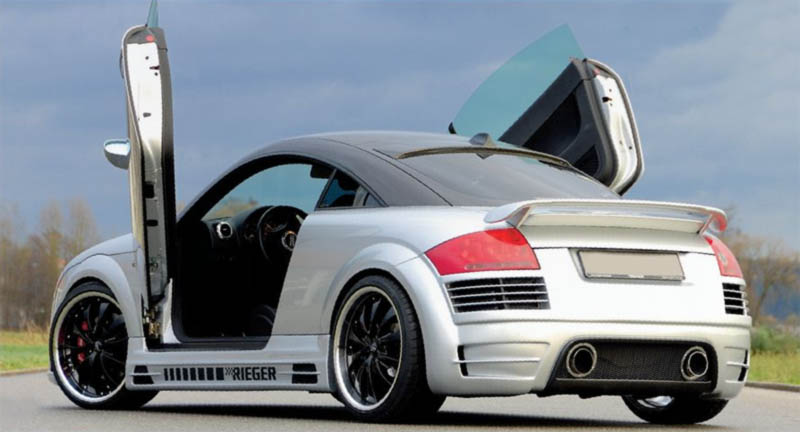 Carbon Fiber Look featured on Rieger body kit bumper for original Audi TT 8N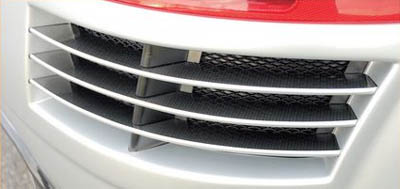 If you own a MK1 TT from the first generation of production, you will want to consider the TT part recently introduced by Rieger of Germany. There are two styles in finish available for this bumper. The photo above illustrates the carbon fiber look option and is slightly more in cost than the version without.

The carbon look is special order but both style versions share the same high grade ABS automotive grade plastic construction. The design adaptation with contemporary cooling fins or "lamellas" is outstanding. You can choose a uniform look or mask the bumper at time of painting to reveal accents and produce a diffusor section featuring mesh through exhaust ports. Take an older Audi TT and transform it. There are integrated Lamella vents on the right and left corners as shown in the detail photo above. Rieger also offers side skirts, a roof spoiler and front splitter in the same carbon look or optionally without. MatchPaint service from LLTeK is available for this kit. However, the carbon fiber look parts are special order and will take some time. Our advice - plan your project well in advance with a cushion of time for fulfillment and paint. Working against a tight deadline with major parts somewhere out on the Atlantic Ocean can be hard on the nerves. Regardless, a tuning project is fun - not an excuse for your hair to fall out.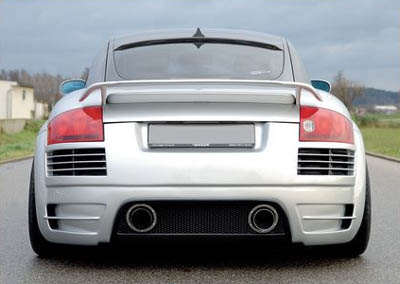 Click Photo and View Performance Tuning Options for the Audi TT 8N
Click Here Now and View Images and Pricing for the Audi TT Body Kit made by Rieger
If you have questions about this tuning kit for the Audi TT or any other tuning project offered by LLTeK - Call toll-free now in North America: 1 888 465 5835 or 1 888 GO LL TEK.... a friendly and knowledgeable Sales Rep will be happy to answer your questions.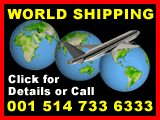 Click and and View List of ALL Press Releases



Click and Return to LLTeK Home Page