August 27, 2008 - Turbo Tuning - More Power - No Chips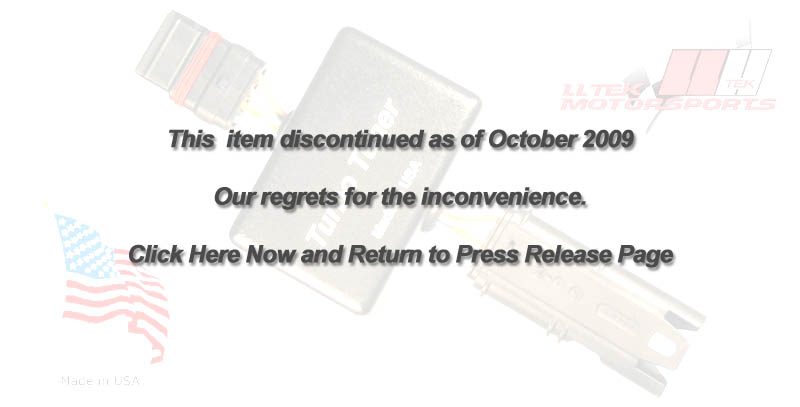 LLTek Motorsports announced availability and shipping of Turbo Tuner modules for BMW and Porche cars equipped with turbos today. These units are stealth high performance products that produce amazing power gains. Expect 35 to 40 HP and 56 extra pounds of torque if you own a 335i. This is a plug-in module and can be installed and removed in 30 seconds or less. No tools and no mechanical experience is needed. Great for a leased automobile. The module is about the size of a deck of cards. Fuel economy is not affected under normal driving conditions. An upgraded exhaust system is not deemed necessary to obtain the HP gains, nor is it necessary to control heat build-up or increased back pressure at the turbo.

And more good news. The Turbo Tuner does not cause "trouble codes". Installation and de-installation is non-traceable. The unit is not ECU Re-Flash. Instead it is an embedded control solution. BMW smoothness and the refined handling and motor characteristics of the car remain. The design features a "soft limit" circuit to avoid over boost, thus preventing boost spikes and preserves drivability. There is also a temperature compensation protection circuitry that lowers boost at elevated temperatures under the hood.
Here are some key benefits and features:

Typical Horsepower gains of 40-50HP
Typical Torque gains of 50-60ft-lb.
Easy Do-It-Yourself Installation (minutes)
No "trouble" codes or trace after removal
Embedded control that works with engine's stock ECU
Preserves the smooth and refined character of the vehicle
Portability - can be taken from car to car.


Dyno Chart - April 4, 2007
NOTE:
This product cannot be used in conjunction with any ECU that has already been chipped!
Applications:

BMW Twin Turbo 335I and 535I
Porsche Turbo 996 and 997

Pricing:

BMW Twin Turbo 335I and 535I cars - $599.00
Porsche Turbo 996 and 997 cars - $799.00
Call toll-free with your questions today - at 1 888 465 5835 or 1 888 GO LL TEK.


Click and and View List of ALL Press Releases



Click and Return to LLTEK Home Page