December 22, 2008 - Audi will go Head-to-Head with the Mini Cooper


Audi presented its second version of the A1 metroproject quattro, renamed the A1 project quattro in Paris 2008 (above).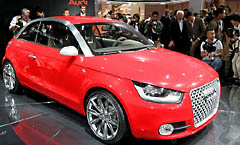 BMW's MINI COOPER will start looking in the rear view mirror to see its competition coming - and that will be soon. Audi is expected to launch sales of the Audi A1 mid-2010 to be followed in quick succession by the Audi S1. Now the A1 will make market as an urban alternative fitted with lean low gas-consuming engines (1.2 litres and 1.4T litres) generating 86 and 122 horses respectively. The competition for the MINI will be an S1 powered with Volkswagen's 1.4 litre Twincharger ( both turbocharged and supercharged) - IT is expected to produce 0-60 times in less than 7 seconds and a top speed of 150 mph.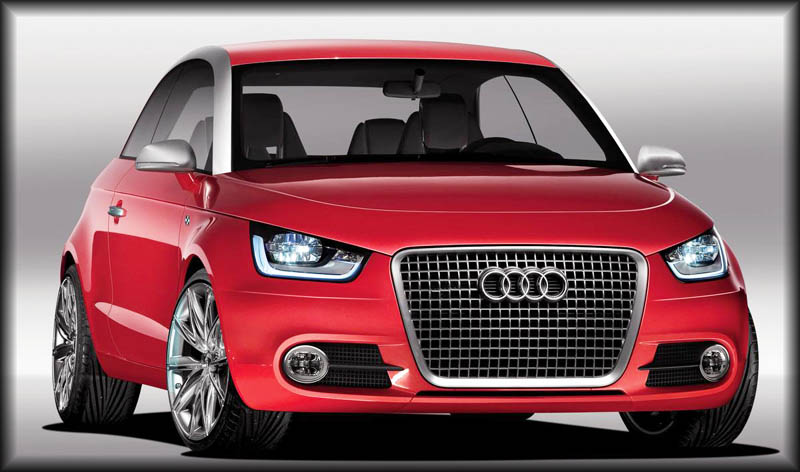 The A1 was previewed at the 2007 Tokyo Motor Show in the form of the hybrid Audi "metroproject quattro" concept car.
Audi unveiled a second A1 concept car at the Paris Motor Show in October 2008. The A1 Sportback concept was a restyled 5-door development of the metroproject quattro (BlueGrey - lead top photo). Like the earlier concept, the A1 Sportback concept car had a hybrid powertrain, with the same 1.4 litre gasoline engine and S-Tronic dual-clutch transmission, plus a 27 hp electric motor. However the electric motor drives the front wheels, rather than the rear as was exhibited the first time in Tokyo (2007). Quoted 0-62 mph acceleration is 7.9 seconds and average CO2 emissions are given as 92 g/km. The A1 Sportback retains the dimensions of the "metroproject quattro", except for being slightly longer.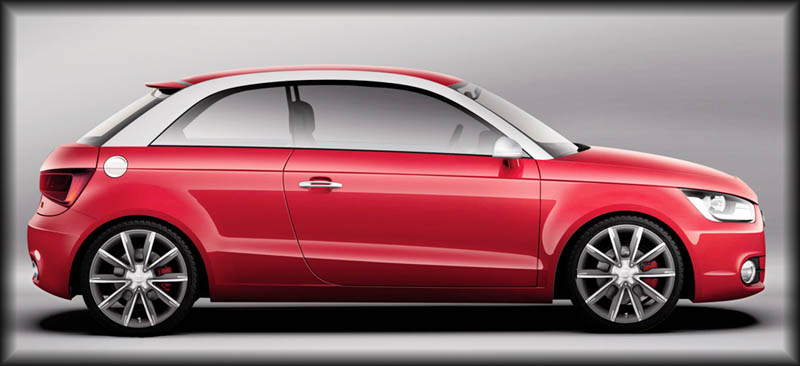 The metroproject quattro shown in profile here - will seat four.
The car will be assembled in Brussels, Belgium with a 5-door sportback destined for the USA. A 3-door sportback, coupe and convertible are also considered to be part of the future mix. The A1, first showcased at the 2007 Tokyo Motor Show was a concept/project car known by the moniker Audi metroproject quattro. This particular car (illustrated in Red with this article) qualifies as a hybrid and featured a 40 hp electric motor providing power to the rear wheels in addition to the 1.4 litre (148 hp) Turbo FSI engine powering the front wheels. The lithium-ion batteries are projected to save 15% in gas consumption when in use and the battery would require charging approximately every 60 miles. A 2 litre turbo diesel and probably the hybrid are expected to be released in Europe, but it is the S1 that is expected to make it big in North America.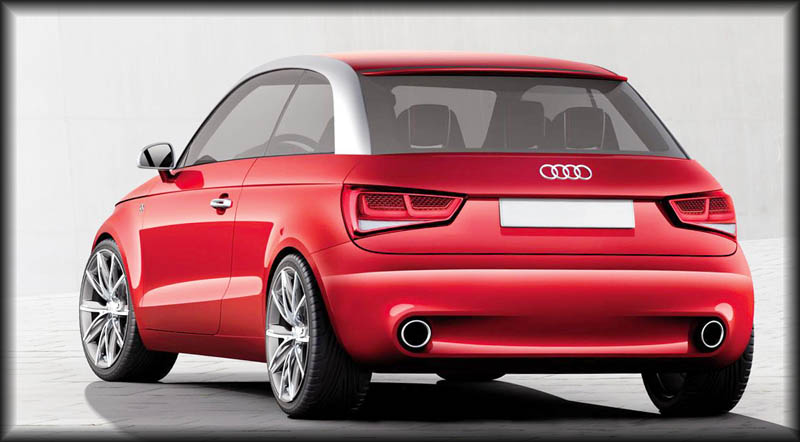 Audi's concept hybrid metroproject quattro. Look to LLTeK for body kit styling and tuning when this car makes it to our shores.

Click and and View List of ALL Press Releases




Click and Return to LLTeK Home Page