January 22, 2009 - Audi A8 Owner and Tuner Enthusiast Completes Body Kit Project at Home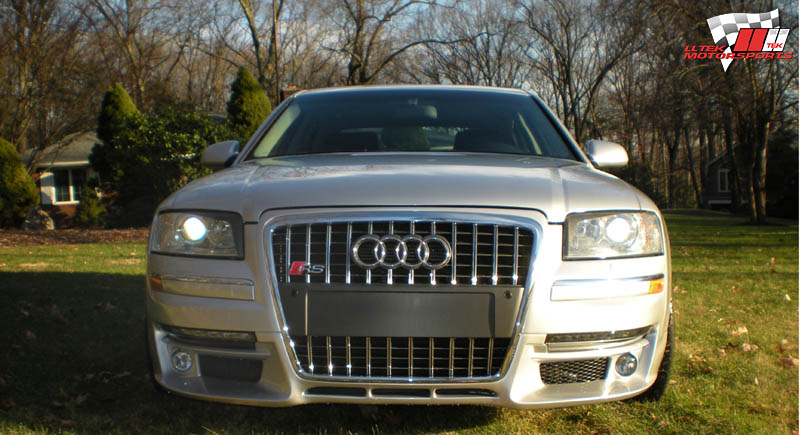 Not only was MB motivated in that he did the installation himself - he also took it upon himself to edit and improve the instructions.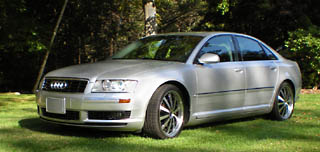 MB in Connecticut admits he's an Audi enthusiast - he likes Audi cars and he owns 3 of them to prove it. While it's true that he also owns a big-go-anywhere Ford pickup - he gets a great deal of pleasure driving either of his two A6s or A8. This story is about his A8 D3 - the one that's pictured on the left (before the conversion), that is.

Last year, Michael got to LLTeK's website and found Hofele's RSEight conversion project very interesting - and the more questions he asked - the more interesting it got. DIY (do-it-yourself) pictures and results were sent to us and we share them with you..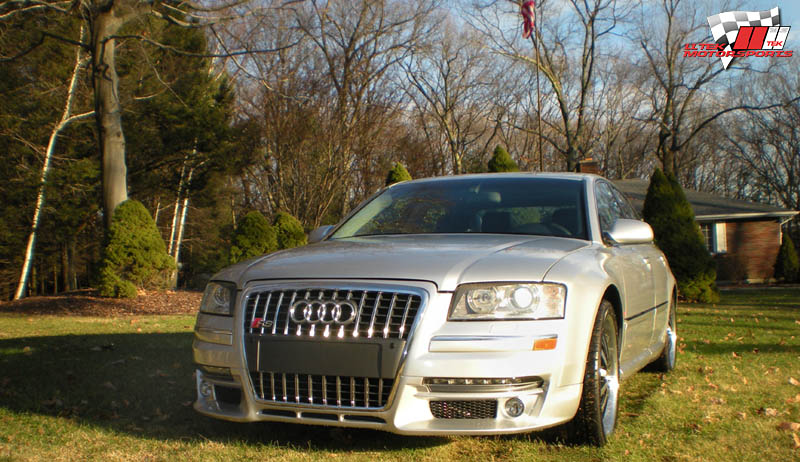 Fall 2008 and Michael's Audi A8 D3 is looking like it recently arrived from Neckarsulm.
Neither LLTeK nor Michael is suggesting that all you have to do is buy something and hang out in the garage for results equal to what Michael achieved with his A8 pictured above. On the contrary, the project requires tools, determination, stamina, concentration, a love of cars and a sense of adventure. And let's not forget about faith and confidence - who among us would want to admit to the horrified service manager that you think you may have possibly inadvertently maybe done irreparable damage to your favorite piece of german engineering?


Caliper covers with badging were created and installed.

Most readers will be able to appreciate and admire Michael's efforts and some owners of Audi A8 D3s might even toggle with the idea of taking a run at it themselves; but the truth is that many Audi owners who get the tuning itch are missing that greatest of all luxuries - time - and just can't take the project forward personally. LLTek's MatchPaint program is an option worth consideration.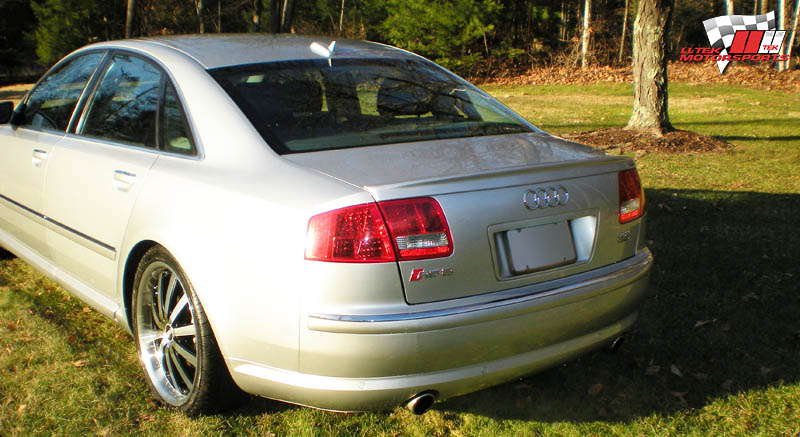 The rear trunk deck was modified with discreet styling from JE Design - part# JEA84E-05 (D3)
Anyone interested in this project , or projects similar to it can call LLTeK toll-free at 1-888-465-5835 with their questions. An LLTeK Rep will be able to discuss all aspects and options. International telephone call can be made to LLTeK at 001-514-733-6333.
Click Here Now For Audi A8 D3 Body Kit Styling Options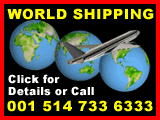 Click and and View List of ALL Press Releases




Click and Return to LLTeK Home Page