January 30, 2009 - Body Kit Styling for Cayenne 957 - Five New Body Kits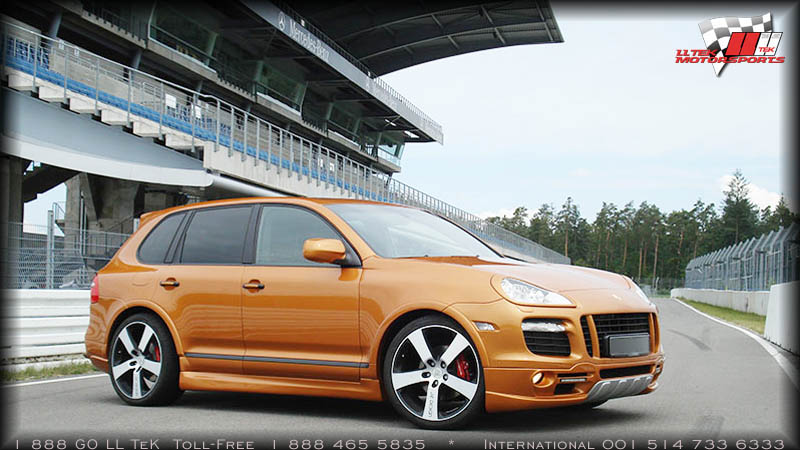 JE DESIGN has two new bodykit styling designs for the Porsche Cayenne 957. See image gallery links below.
As the Cayenne (facelift) 957 establishes its place on the road (or track - as illustrated above) with a host of other mid-size SUVs, LLTek is happy that Europe hasn't been ignoring it. Actually, the moon and the other planets don't line up for Five Star events like this very often, but when it does happen we'll be the first to tell you about it. Like today.

JE DESIGN, Hofele and Mansory start 2009 off with 5 styling perspectives on the facelifted Cayenne 957 and LLTek has of ton of images (more like 2½ tons) posted that you can browse easily. Pricing, part numbers and availability on kits have not been posted with these images but will follow shortly. They've all been designed in Europe and will probably not arrive next week - even if you ordered one yesterday - although LLTeK can fly your kit to whatever corner of the world you want. If you are considering a tuning project for your Porsche Cayenne - LLTeK is probably your best place to start.

Scroll down to the image links below and choose any of the five listed. And if you have any questions - call toll-free at 1 888 465 5835 or international at 001 514 733 6333 - an LLTeK Representative will provide you with the information or see that it gets to you. Ask about LLTeK's MatchPaint Program - and help yourself get a head start on your project.
Click on any line of images and view an image gallery
Click Here Now and See the Cayenne 957 Body Kit Styling Page


Click Here - and See the Cayenne 955 Body Kit Styling Page

Click and and View List of ALL Press Releases




Click and Return to LLTeK Home Page