March 7, 2009 - Hofele Releases New Body Kit Styling for the Audi A8 D3 (facelift)


The Audi Facelift A8 D3 (2005 and on) has new options from Hofele - including quarter panels with venting!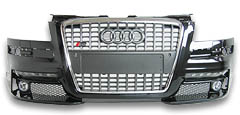 LLTek announces an exciting new Hofele upgrade for the Audi A8 D3 "with facelift" car and has just released first photos of the RS8f body kit for the A8 D3 - featuring a technically-styled front bumper with new integrated side ducts adjacent to the left and right lower air ducts plus optional (and fully functional) LED lights built into the bumper face. These LED lights are from Audi's very own S6 car. Hofele's RSEight conversion kit has been very successful for a number of reasons - the least of which can be counted as quality in construction and fitment. All parts are bolt-on with no modifications needed save the small cut off of the original rear valance to install the new stylish rear valence.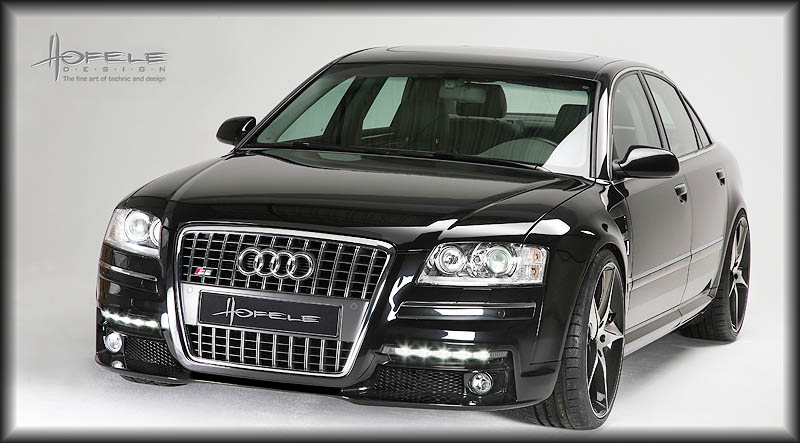 A more aggressive look is always achieved with bigger wheels and lower levelling.
Also new are the technically designed widened fenders with accent side vents. These fenders allow a 21 inch wheel. The fenders are specially designed to also fit the pre-facelift A8 D3 years 2004 and 2005. If your car is a pre-facelift car, please visit the 2004 and 2005 A8 D3 Hofele section and see the exciting RS8-p kit for a major transformation to the car to bring the looks up to par with the new RS8-f design. Also new to the A8 D3 (all years) program is a stylish lower rear valance with optional quad high performance canister system. This add-on valence and the quad performance exhaust fit the facelift and pre-facelift A8 D3 cars. The exhaust tone is deep, yet not offensive. Therefore USA/Canadian years 2004 to current are all covered. The A8 D3 car was released earlier in other parts of the world; therefore, the start year outside North America for the D3 is 2002 in Europe and 2003 in many other countries.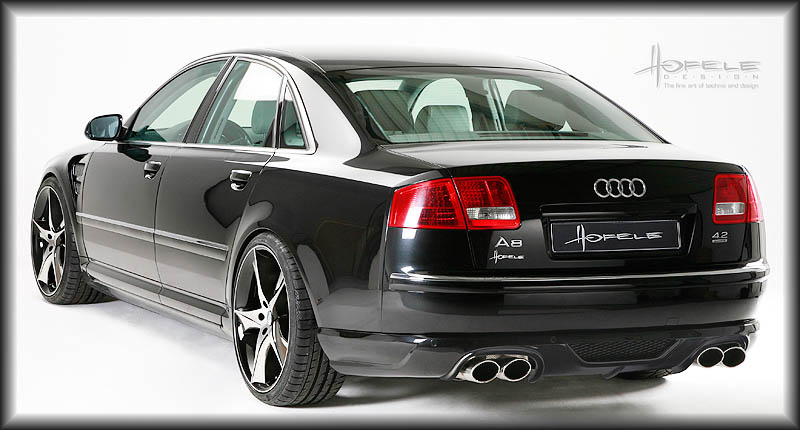 Hofele's rear valence for the Audi A8 D3 is designed to accomodate quad tips.
LLTeK is expecting news on availability and pricing details soon. A link will be provided from this page to the Hofele styling section of LLTeK's website over the next few weeks. Publication of details on the site sometimes lags and you are invited to call toll-free at 1 888 465 5835 to ensure you are current. Watch for more photos of individual parts to be posted soon.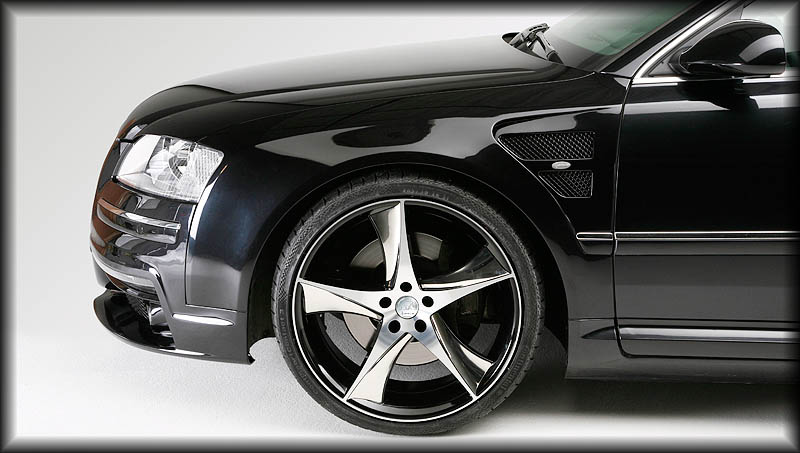 Detail on driver's side reveals mesh louvre in quarter panel and wicked wheels from Hofele known as the "Trophy" series.
LLTek's MatchPaint program will cover Hofele's styling kit for the Audi A8 D3 - it can save you time, effort and money. Choosing MatchPaint means that your tuning project will arrive with mesh and lighting completed and ready for installation. An LLTeK Rep can help you determine what the exact paint formula for your Audi is. Call today! Anyone interested in this project , or projects similar to it can call LLTeK toll-free at 1-888-465-5835 with their questions. An LLTeK Rep will be able to discuss all aspects and options. International telephone call can be made to LLTeK at 001-514-733-6333.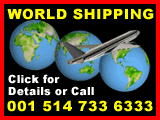 Click and and View List of ALL Press Releases




Click and Return to LLTeK Home Page