Hofele Design has devoted resources and effort towards the Audi A3 8Pa. This is the "sportback (5-door)" version that was only landed in North America in 2005. Curiously, the A3 (in a 3-door version) had already been in production for more than 10 years. Curiously because the Audi A3 is the longest-running production model in the Audi lineup and more than 2 million of these cars have been built and sold around the world. Apparently South Americans go gaga over this car - Brazil was still producing the 8L 3-door while Europe had moved on to the updated 8P. It does not look like popularity is fading anywhere however - last month, Audi announced an entirely new factory will be built at Ingolstadt specifically for the maufacture of the Audi A3.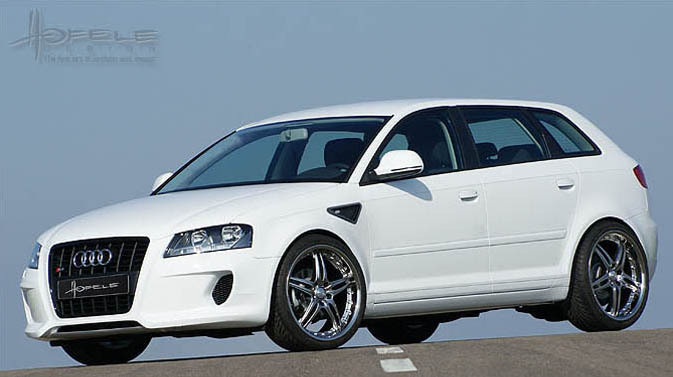 Hofele's latest aftermarket options for the Audi A3 (3-5-door, and cabrio).
The Hofele ensemble for the Audi A3 8P currently consists of the GTS bumper (which requies an OEM Audi S3 grille), optional driving/fog lights, a rear valance/diffusor available in one-side or twin-sided exhaust ports and under development a roof spoiler (separate versions for the 3-and 5-door models). More pictures and pricing will be posted in soon.
Pricing and other detail now posted here:
hofele gts body kit styling audi a3 8pa sportback

On the modified Audi A3 Cabrio shown here - "Prado" wheels by Hofele Design.
If you own a German-engineered automobile and have questions regarding your body kit styling project - then call and speak with an LLTeK Rep who will answer your questions or prepare a quotation for your project - we can be reached toll-free in North America at 1 888 465 5835 or International at 001 514 733 6333.


A quad tip exhaust is matched specifically to the Hofele Audi A3 diffusor (single side version shown).


You are always welcome to call toll-free
1 888 465 5835 or International 001 514 733 6333
if you have any questions.