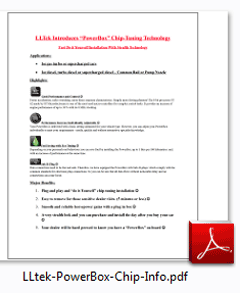 LLTek has proven safe and reliable performance chip tuning for BMW engines. For quick reference click the LLTeK PowerBox Info image to the right and download the PDF.
The chart below provides details
on before and after specs (mfg numbers and percentages) for horsepower / torque increases.
Download the PDF and get the skinny --> --> -->
Each unit is individually programmed for your particular model and engine. Installation instructions (no need for special tools) are delivered with your unit and the entirely reversible process (back to stock settings) can be accomplished in less than an hour. The downloadable PDF at right is illustrated with a bimmer mill.
As shown below, the gains in horsepower average above 25% and torque is bumped an average 20%.
For example, the 1 Series E87 shows an increase of more than 80 HP and a 22% increase in torque. This remarkable improvement in performance is courtesy of German software engineers.
Call with questions - we can make your car go faster. After Hours? Click Below for e-mail quote.